Importance of email appending in email marketing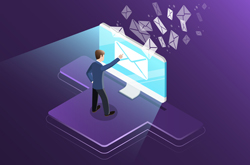 Businesses need sales as they constantly strive to reach out to their target audiences for newer products and offerings. In the world of marketing, nothing works like email marketing as it offers a cost-effective solution allowing businesses to reach consumers directly in their inbox.
A business not having an email database of its clients may find it hard to start off any such email marketing campaign, putting it at a definite disadvantage over its peers and rivals. No surprises that businesses strive for data enrichment and tools like email appending to ensure they have updated contact details of their clients to whom they can reach out and market their future products in a planned manner.
Email marketing the 'numero-uno' choice of marketing teams
While newer marketing methods including social media marketing get more eyeballs, email marketing continues to be the top marketing source for marketing teams. A DMA study reveals that more than 99% of active email users check their emails every day.
Another study conducted by Adestra shows that 78% of teenagers and millennials use email as a primary source of communication. Add to it Radicati's Email Statistics report predicting more than 3 billion people will be using email by 2020. With email communication, content can be delivered fast and accurately to the consumer interested in the same. This makes email marketing a top option for marketing teams and a core part of their marketing plans.
The role of email appending in email marketing
Getting consumer data helps businesses create a mailing list for future references. Since email communication is one of the easiest ways to get in touch with buyers and b2b contacts, email appending helps businesses seek updating email addresses.
Consumer email appending is the process where companies map or append their existing consumer database over a master file of email appending companies. As a result, email address of consumers is mapped out after collaborating and confirming various fields like name, address, telephone number, street address etc. Once an email contact is established, it helps businesses get in touch with buyers directly, of course after seeking due permission. This opens up communication channels for after sales, future marketing campaigns as well as sending out personalized product offerings based on their past purchase. Likewise, b2b email appending helps businesses to successfully network with vendors and suppliers.
For all its importance email appending is a specialized job and once an email address has been mapped, it requires permission or opt-in services from clients as per the CAN-SPAM Act. A business enterprise runs the risk of turning off its existing clients by appearing to be someone spamming it unlawfully or inconsiderate with their private data. Seeking permission is not just a legal process but makes the enterprise live up to its role of being serious about data security.
All data enrichment, data appending and email appending must be done with due diligence in accordance with experienced email appending companies who specialize in the job for effective mapped service.
The Last Word: Email appending plays a massive role in ensuring email marketing is able to generate the right outreach to clients resulting in planned campaigns and a higher MROI.