Total Addressable Market (TAM) – And why it matters?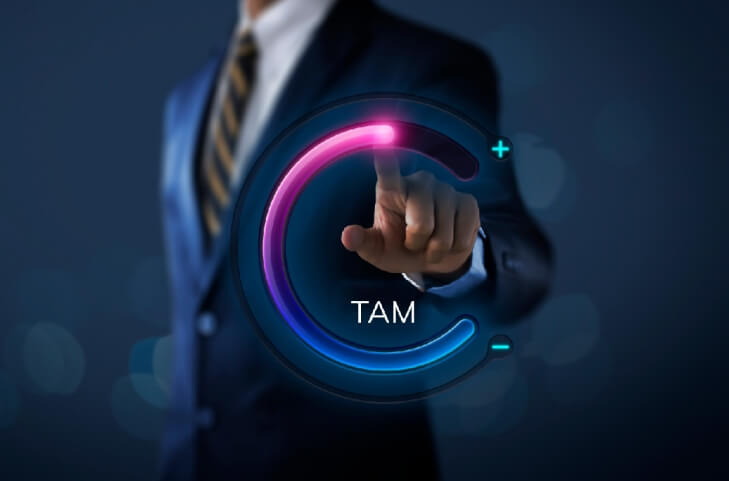 Very content with your fair-share of business, earning a good deal of repeat business, running campaigns that are driving noticeable results; so why care about Total Addressable Market?
Here's why?
No matter what the nature of your business is, whether a start-up or an enterprise-level company, it's very essential to assess your profit potential & forecast SMART revenue goals and this is precisely how a TAM analysis can help you.
Let's begin by understanding what TAM means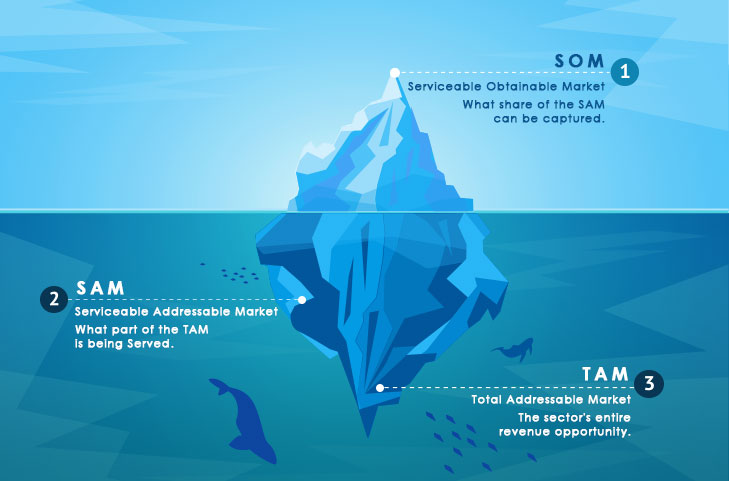 TAM refers to the total market demand for a product or service.  It is the maximum revenue a business can expect, buy selling their product across a specific market segment. Most importantly it projects the effort & investment that's needed from a company, especially if it's a new business vertical. Imagine investing all your time and resources into a product strategy that is headed to doom? A TAM analysis is a proactive approach that allows companies to prioritize their products, services & customer segments that can compound their business scope & reach.
Without a doubt measuring your total addressable market is the crucial first step you must take if you're serious about your business performance.
How to calculate the Total Addressable Market?
Total Addressable Market is calculated by the Average revenue per user (ARPU) multiplied the number of the potential customers in a particular market. While this is the fundamental premise of calculating the TAM, it is challenging to precisely pin-point the number of potential customers across a certain market segment, isn't it?
While there are innumerable ways to calculate the potential customers that include research & analysis from third party experts; additional efforts must be vested to arrive at the precise number of likely customers.
Here are three effective ways of accomplishing this:
Top-down approach
Bottom-up approach
Value Theory approach
Top-down approach
As the name suggests, this approach starts by accounting for a larger population of the target market and using this as the base to narrow down to a specific market segment. Also referred to as the inverted pyramid approach, this method incorporates industry reports & research to arrive at the estimated population.
Bottom-up approach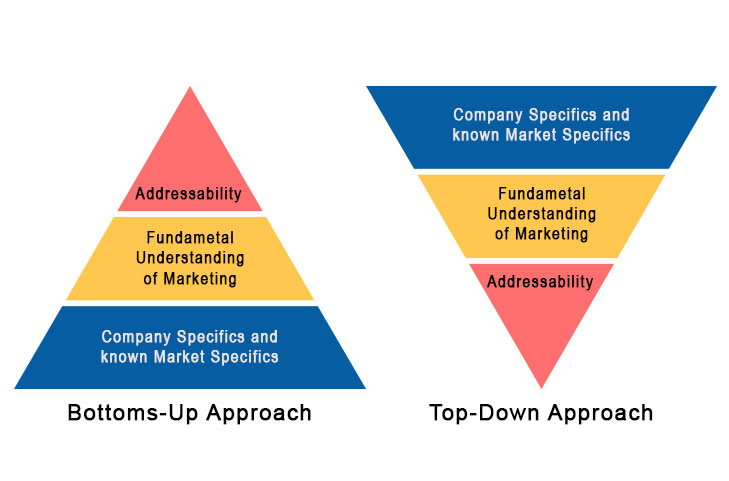 On the contrary, the bottom-up approach looks at specific attributes of the market & expands on these as the base. However the bottom-up approach is more reliable and widely accepted as it relies on primary research to arrive at the premise. It gives power to the company that have real-time data to explain why they selected a certain attribute over the others.
Value Theory Approach
This approach is used to calculate the TAM while a company is introducing a new product/service in the market.  It begins by questioning why the buyer would be willing to pay based on the value of the product. Thereby the company estimates the value being offered and captures this as part of the product pricing.
So now that you have a brief about Total Addressable Market and the various approaches of arriving at it, what next?
The key to achieve performance success with TAM as part of your business process is to infuse it with buyer intent data to power-pack your sales & marketing strategies for measurable results.

TAM Analysis & Intent Data
Gauge your total active demand with Intent Data. With intent data you can narrow down the focus of your Total Addressable Market. It's not enough just to identify an account that aligns with your ideal buyer characteristics. With high-quality intent data you can identify the targets worth pursuing that can help you increase your campaign efficiency & sales conversions with personalized communications & value-driven offers.
Intent data is the key component of transforming your TAM analysis into practical marketing strategies.  Here's how it can boost your sales & marketing efficiency.
Customer Segmentation
Segment your core target audience based on the attributes of your product/service. Position yourself for success & increase the likelihood of the purchase as your customer profiling is based on the core attributes of your product.
Personalize Communication
Considering the core customer attributes that align with your offering, personalise your customer communication & prospecting strategies to influence their purchase triggers.
Minimize Costs, Optimize Results
When you avoid a mass prospecting approach, you save valuable time and resources that can rather be channelized in upselling & influencing the perfect target audience who have a greater probability to buy, basis the TAM score.
Develop a Result-focused Marketing Strategy
When your customer foundation is built on intent data & TAM insights, be sure of eliminating the loopholes that are a result of a traditional marketing approach. Build a strong marketing strategy based on TAM insights that can amplify the reach and scope of your multi-channel campaigns.
Increase Sales Efficiency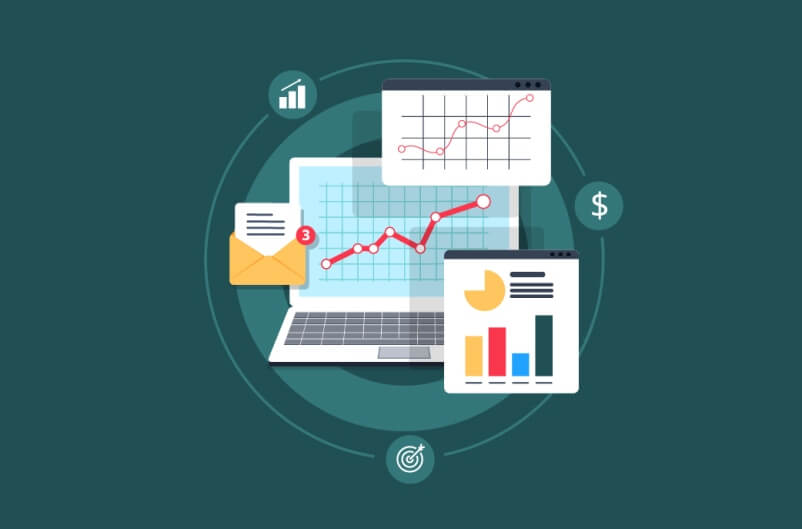 Reach the right prospects at the right time; gather the right intent data & TAM insights that are a direct window into their core behaviour patterns. Refine your communication to make a direct impact on the key purchase triggers & increase the likelihood of conversion.
Amplify Results with Account – Based Marketing
When done right, Account-based marketing can yield remarkable results. With a comprehensive insight-based approach of intent data coupled with TAM insights you can profile your core target audience with great precision and develop highly personalized ABM campaigns that can grow your ROI.
Conclusion
TAM analysis is a game-changing technique that can garner your competitive advantage and help you increase your sales pipeline with quality leads, maximize conversions, and boost overall campaign performance. Don't take the leap blind-folded, win with TAM insights that can scale your ROI to a whole new level.