Ensure Your B2B Data Appending Includes Decay Protection!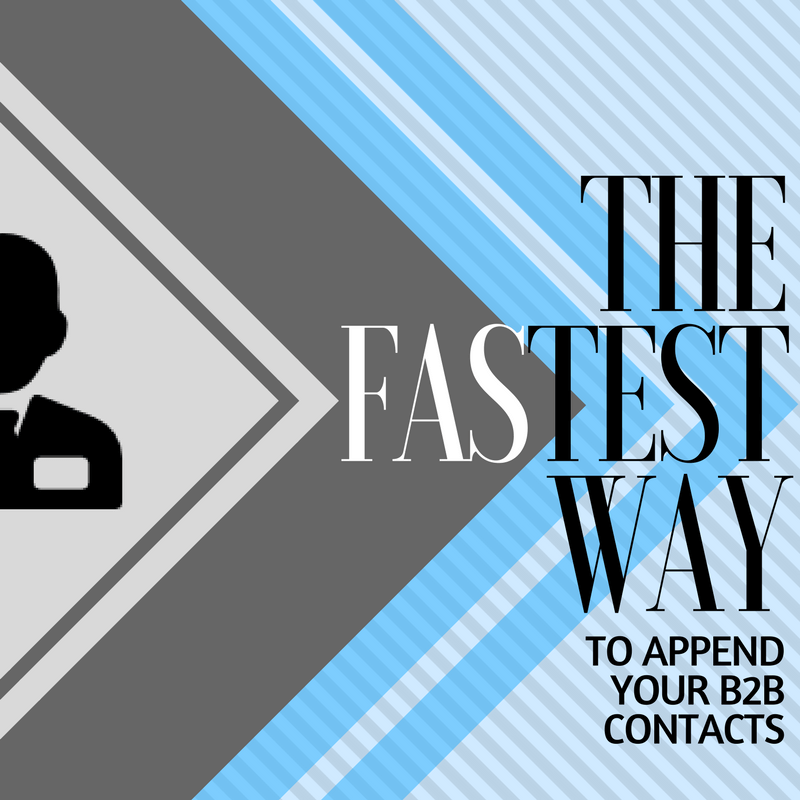 When you discover that the company you've dialed closed two years back, you know that your contact is outdated. When your team discovers that more than half of the contacts in your database are outdated, it's recycled, and used for "cold calling" afterwards. Then with time, it's transferred to newbies for "training purposes" and works as a simulator of sorts. And this is how your once-thriving client database dies. In marketing, we term this gradual regression as data decay. Data appending is the stimulant your marketing database needs to live a long and healthy life.
Maintaining a Healthy Data Profile with B2B Data Appending
While the data decay process seems long, the typical lifecycle of a B2B database is maximum 3 – 4 years. This translates to 25% erosion of your list every year. The average gap between successive changes of employers is two years, and change of email addresses is one year. These are the highest contributors to your B2B email list's data decay. Continuous tracking of your professional-base can be achieved by enhanced hygiene & appending services.
Proper Hygiene Services ensure…
Increase in Deliverability
Reduction in Bounce Rates
Re-engaging with lost subscribers
On the other hand, appropriate Appending Services enable…
Increased Sales Opportunities
Sender Reputation Protection
Upselling and Cross-selling
Brand Recognition & Growth
The Importance of Decay Protection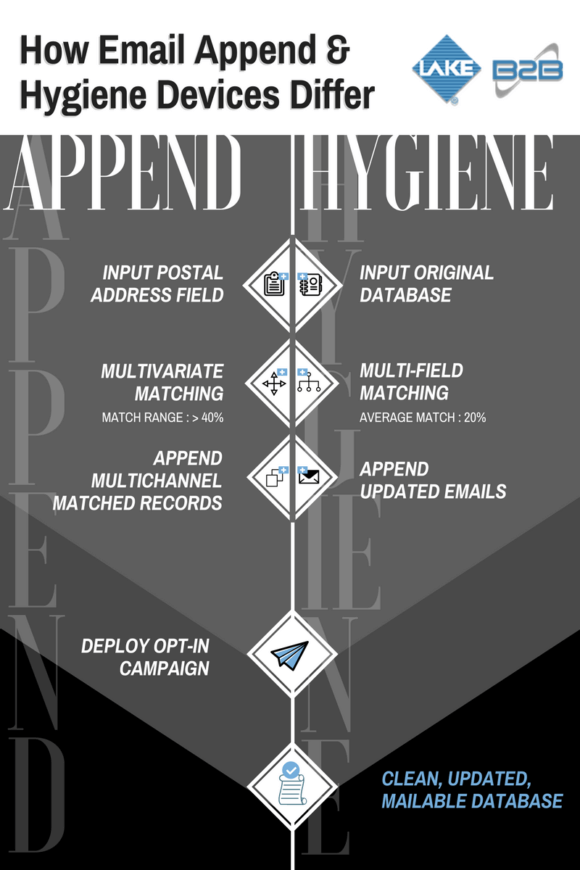 Appending services directly influence your database's longevity and revives your old business relationships.  It fosters positive growth in your sales and revenue and is thereby beneficial on more than one ground. With higher number of competitors in all fields, courtesy to high digital exposure of individual businesses, the global B2B market will sooner or later saturate of choices.
In simple terms, there won't be any more "new markets" to expand to. Client acquisition will take a step backwards, and client retention will take its place in the limelight. Some industry leaders are already showcasing their change in focus, by dedicating as much as 80% of yearly revenue accumulation target from their lists of existing customers.
Upheave Your Marketing Relevance with Data Appending
In marketing, reverse of decay is relevance. The more your email marketing efforts are able to establish real-time, quality and relevant communications with your clients, the decay factor of your list is minimized, if not eliminated.
But to apply this to an already decaying list means the initial business relationship conditions have to be re-evaluated.
Recognize the Living Persona of Your Decaying Email List
Step 1:
To start a new relation with your decaying client list, start with understanding their fundamental needs, like:
DEMOGRAPHIC
OCCUPATION
PAIN POINTS
GOALS (PROFESSIONAL & PERSONAL)
INFORMATION SOURCE
PURCHASE CRITERIA
PAST FEEDBACKS TO YOUR SERVICES
Your welcome mail can contain a brief, friendly questionnaire asking what they have been up to recently. Be careful on framing the questionnaire, so that it maintains the tone of decency and respect towards their privacy.
Step 2:
End the wait for your long listed subscribers. Give something back to them to start a genuine conversation.
The first mail is your acid test!
Keep Your Expectation Low
Apart from the fact that you have not contacted them for quite a while, 30% participants of any given list change their email addresses every year.
This is not a cold call, or a sales pitch. So, do not sound like one! Sharing offers on your first mail is a strict no-no! Keep it to a normal greeting.
You need a Silver-Bullet Subject Line
Subject lines should be catchy, ensuring reader interest from the word go. 64% business mail recipients open the mails based only on the subject line.
You don't know where they are, or what they are doing. Make your mail and landing page responsive. Over 80% of the people in the world check their mails in mobiles.
Step 3:
Time your 2nd mail accurately
You have (re-)engaged them. Good! Get the momentum rolling! Give them a valued resource (training material, documents) for free. Send the 2nd mail latest within a week of their response.
For non-responders, you can send the mail again after a two-week wait, but use a casual subject line, like "In case you missed this…" or something of that sort.
Follow the suggested response pattern below: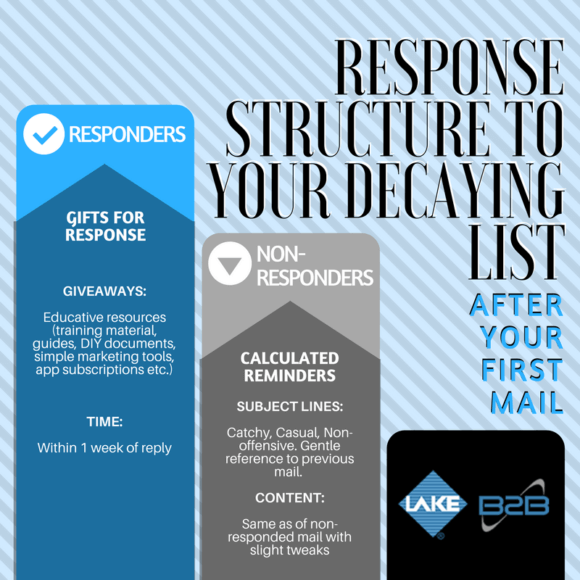 Want the fastest route out of your appending worries? With 42 million+ B2B professionals' contacts to match your client database, Lake B2B is your freeway to data protection. Get your first 100 contacts appended for free!