Hallmarks of a Competent B2B Data Provider
While the B2C business landscape is becoming more data-centric, the B2B world has always been driven by data. High accuracy and better insights are vital factors in building a successful B2B business.
And possessing the right set of data is the only way to achieve that level of accuracy and customer insights. Reaching out to the right audience is extremely crucial when starting a new business or expanding an existing one. However, setting up this database is a long and tedious process and can halt business growth as it consumes a significant amount of time, resources, and manpower.
That's when B2B data providers come into the picture. They provide businesses with accurate datasets that help them connect with their target audience and generate engagement for targeted personas through personalized campaigns.
And without the presence of this relevant data, all the other components of a B2B demand generation campaign become completely marginalized, turning your personalized marketing campaign into a random 'spray-and-pray' gimmick.
However, much like selecting new software or recruiting a new employee, outsourcing your lead generation provider requires patience and diligence. Several B2B data providers may claim to have the most updated or most accurate data, but it is essential to do your due diligence before hiring them.
And although data is the key to marketing and sales success, irrelevant, inaccurate, and outdated datasets can turn your potential investment into a costly mistake.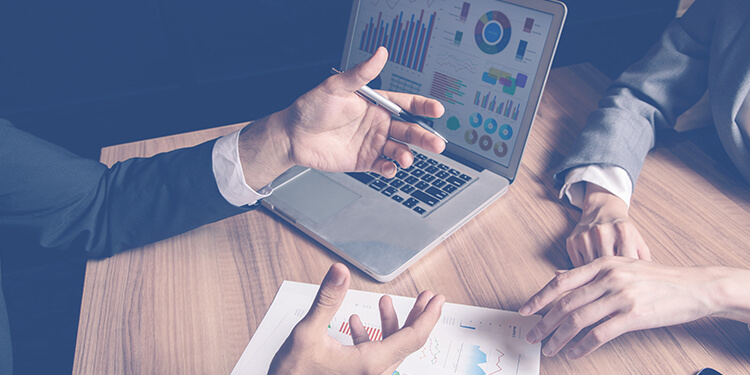 So, to help you put your data strategy in place, we have created a comprehensive guide on how to distinguish the reliable B2B data providers from the not-so-reliable ones and help you determine whether a particular B2B data provider is the right choice for your business. Read on to find out how you can identify the hallmarks of a competent B2B data provider.
Factors to Identify a Competent B2B Data Provider
Depending on the stage your business is on the development cycle, your data requirements, and your budget, you can hire different types of data providers for lead generation. But before hiring a B2B data provider for your organization, you need to ensure that not only do they serve your needs but are also trustworthy and transparent. Let's take a look at a few factors that can help you distinguish a reliable B2B data provider –
1. Verification of Data
Data is shared by two types of providers – owners and resellers. Owned data refers to data sourced either from a vendor's daily business processes or through state-of-the-art data-collecting technology. Organizations that sell their opt-in membership list can be seen as a source of owned B2B data providers.
Resellers and brokers of data, on the other hand, are the middlemen who purchase the data from one or many sources and resell this information to their clients. Although seemingly unorganized, the majority of B2B data providers are resellers. And while both are capable of being competent in their respective places, there are certainly trustworthy and untrustworthy data providers in the market.
When it comes to data owners, the reliable ones always personally tag, filter, verify and update their data. So, a qualified B2B data owner will be familiar with the data collection and verification process and be able to answer specifics in times of concern.
Several B2B data owners, however, lack the proper tools for verification of data, eventually resulting in data decay. But a reputable data owner will always verify their data across multiple platforms to ensure superior data accuracy.
LakeB2B possesses a passionate team of 200+ data scientists who are solely focused on carrying out extensive research and deep business intelligence to provide crystal-clear, precision-targeted custom contact data across the world.
When purchasing data from resellers, many of them may offer free value-added services such as specialized tools for data management to lure you in. However, these tools are irrelevant if they hold no accountability for the quality of their database as their data is only as accurate as their initial data provider.
A legitimate reseller, on the other hand, offers clear transparency about their original data source to establish a sense of mutual trust. At LakeB2B – a custom data platform that provides data reselling services, we update our data repository every 45 days to guarantee enriched and accurate data from the owner to the reseller.
2. Understanding of Various Lead Stages
With several amateur B2B data providers available in the market, it can get tough to distinguish which one of them can genuinely support the demands of your organization. And with the overuse of the term 'lead,' several people are led to believe that all leads are the same.
However, a 'lead' goes through various stages. It may vary from being a cold lead to a nurturing lead who opted to receive information about your services to a nurtured lead who has considered to purchase products from your company. A clear indicator of an excellent B2B data provider is their ability to distinguish one type of lead from the other and provide companies with the relevant database depending on their campaigns.
When searching for a competent B2B data provider, simply evaluate your own lead needs and establish the kind of leads that are most helpful to your organization. For instance, companies able to nurture a large number of leads with the help of marketing reps may benefit from leads at the top of the sales funnel, whereas companies with smaller sales teams will be better off with providers who can supply leads at the lower end of the funnel.
An efficient and qualified B2B data provider will be able to provide accurate and reliable data to support your lead generation campaign at every stage.
3. Deliverability Guarantee
Purchasing data is a significant investment, and it is normal for companies to expect valuable returns on their investment. So, while investing in the services of a B2B data provider, it pays to ensure that they will stay true to their word.
Companies looking for a reliable B2B data provider must always check if the provider takes responsibility and offers a deliverability guarantee of the B2B database. However, a deliverability guarantee is not the only sign of a competent B2B data provider.
While several B2B data providers may offer guarantee deliverability, very few include measures that should be taken in the event of a failed delivery. That's when you can distinguish a truly reliable B2B data provider from a phony one.
A trustworthy data provider will always offer a deliverability guarantee rate along with further steps that they will take if a message goes undelivered.
As the leading B2B data provider in the industry, Lake B2B offers a remarkable 90% deliverability that guarantees that your messages reach the right inbox every time and channelizes your campaign efforts to reach high-value prospects for profitable returns.
Having access to the right datasets and reaching out to the target audience are key factors for the success of every B2B business. However, success is only possible upon partnering with a competent B2B data provider who understands the needs of your company and supplies it with relevant and accurate data.
And owing to the boom in the B2B industry, several incompetent B2B data providers are floating in the B2B space seeking whom they may devour. That's why every business must make sure they tick all the boxes that are consistent with the hallmarks of being a competent data provider. Because once you find the right data provider for your business, planning your campaigns and building your data strategy will become a breeze.