Is an Ideal Customer Profile the true north for better marketing?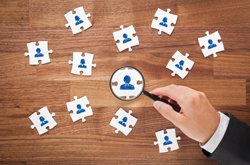 To achieve results, B2B and ABM campaigns require a well-researched Ideal Customer Profile. It makes all the difference in targeting the right audience. Hence, making an outline of such a powerful document is the perfect base for successful marketing. Know what the ICP is and how it is the true north for better marketing.
You have a choice – use your gut instinct or work on a clear data-driven deep insight. We explain the methodology to make the ICP which is flexible and meets requirement when different industry verticals are served with the same product offerings.
Just to make it crystal clear- an Ideal Customer Profile is a 'target company'. For example, if you sell a product i.e., a 'software' to IT cells in various industry verticals, the same can be customized for specific applications to a company. The sales team then simply focuses on acquiring the customer i.e, the company to offer solutions.
The benefits of this research before going out in the field are:
You focus on only companies which really need the products and solutions you offer.
It increases their ROI and saves their time and yours.
Business is guaranteed for long if the product is of a good quality.
Product can be upgraded with least expenses periodically.
Your company meets its goals while solving the pain points of the customer
It is now pretty clear why you need a ICP. Your research in creating the profile depends on the which company is likely to purchase the product you offer.
The outlines for creating a template for ICP
Begin by making a rough outline of the ideal customer.
The research can begin with your customer base.
The ones which repeatedly order your products are the ideal customers.
Why they prefer your products?
Is it the quality or price?
Is it convenience or after sales support that appeals to the customers?
Make a list of companies which do not use your products. Why are they going to your competitors? Can you improve your offerings or customize?
A B2B profile of such a company will include:
Which vertical/industry you are supplying products to?
Budget/Size (capacity to buy) of company.
Pressing pain points or requirements which they cannot get anywhere else.
Find out what your competitors are offering and if there is any gap that can be bridged to outline the profile.
An ICP can be made in several ways but what works best is the data-driven material. It is essential to use a quality solution that offers insights into good and bad data. A standard template can be made for data validation and collating them into various segments. The insights bring out a campaign that produces results. Along with an explicit CRM, Analytic platform a great ICP can be created.
PS: You may have to create one or two ICPs to determine which will work best for the salesforce. Once, this structure is in place, the next step will deal with the Buyer Persona which falls within the parameters created for the ideal customer profile.