Understanding the goals of a CMO in the Digital Era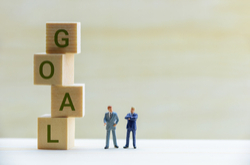 In the previous blogs, we covered the evolving role of a CMO and the challenges faced. Now let's go a bit deeper to understand the goals or objectives of the CMO.
Dramatic changes in the business scenario have made a compelling case for a change in the role of CMOs – it just got a bit more complex now. Being a marketing wizard is great; but in this digital era, the role extends beyond that capability and chief marketers will need to realize that.
As businesses across the world, propelled by digital trends, undergo certain changes, let's understand the goals of the present-day CMO.
Business growth is key
Achieving top-line growth had not been an integral part of the CMO curriculum. That is, until now. Changing business dynamics and growing competition have put organizations on the back foot. The way out is to have CMOs who can not only provide a brilliant marketing strategy but even drive it to showcase measurable results.
For CMOs to drive revenue growth, they need to move beyond the usual and engage with the various functional teams in the organization. Collaboration is the key even as CMOs design a near-perfect strategy to help the sales team pitch to clients and win deals. At the same time, marketing communication across various channels from TV, to print and digital needs to be customized enough to appeal and attract attention of customers.
The goal of the present-day CMO is to achieve revenue growth while developing and executing a great marketing strategy – the role is becoming more emphatic and finding greater relevance at the C-Suite level.
Take the digital advantage
Complex and Tough – can be one way of defining the advent of digital. But the better way of looking at it is, as an opportunity to knock the ''usual'' out and embrace an innovative and out-of-the-box thinking. CMOs must take advantage of the digital revolution and design fresh strategies to promote brands; but more importantly, engage customers in a much more emphatic manner.
CMOs can now leverage on digital platforms and different media to reach out to customers across geographies at a fraction of the usual cost. They can also engage customers to make brand campaigns more participative, thereby, also letting the customers be part of the strategy. Participative marketing strategies will help build better customer relationships. This helps align company with customer in a more emphatic manner.
Build the future competencies
CMOs will need to align with other internal functions to harness the complete potential of up and coming technologies such as Data Analytics and Machine Learning. CMOs must set-up teams that will use these new-gen technologies – to capture and study consumer behaviour, market trends, competition growth, marketing best practices etc.
The marketing ''battles'' of the future will be fought on the digital front using new-gen technologies. CMOs should plan well ahead to have the right resources with required competencies in place. This will not only help counter competition strategies but also help deploy some ground-breaking methodologies to bring in more consumers and subsequently, the required growth.
Activities must lead to growth
For far too long, marketing has been largely about activities and promotions with almost no stake in revenue creation. CMOs' goal will now be to define and execute strategy in such a way that activities lead to measurable results. Business owners no longer care about number of activities or likes or email blasts – all of these must lead to customer acquisition. Achieving measurable results is the only way CMOs will find their value being recognized. This will also help CMOs speak the same language as other C-Suite execs resulting in stronger partnerships and collaboration at the top level.
Marketing must now be both an art and a science!
Upcoming: The most important attributes of CMOs.