Generate $38 on Every $1 Spent on Sending an Email. Know Your Email Marketing ROI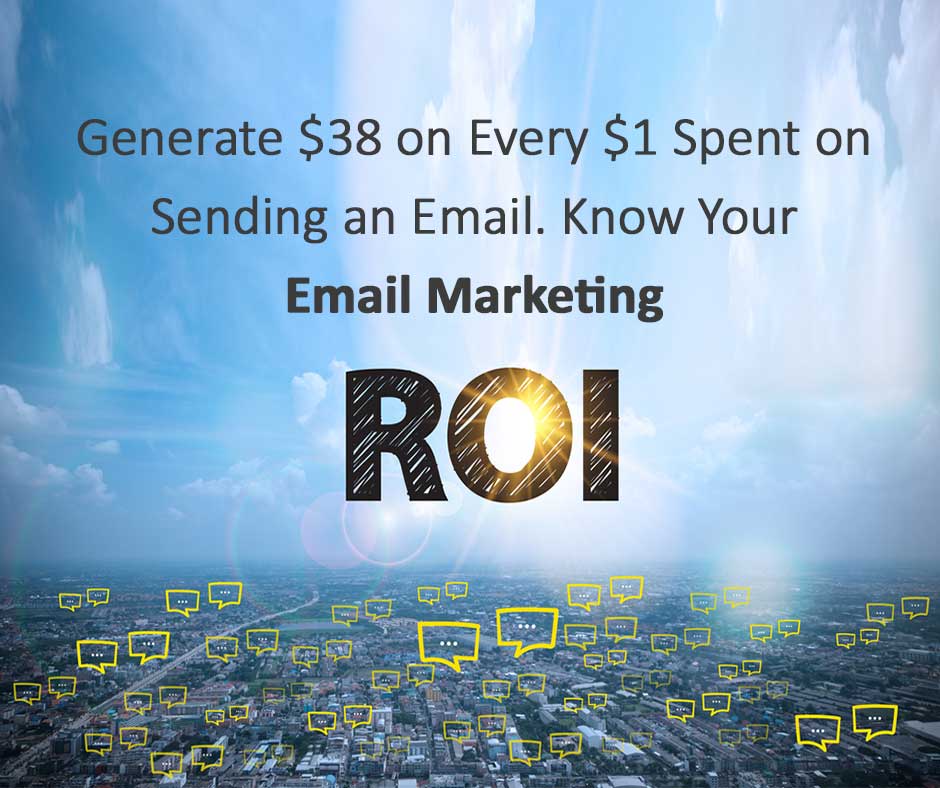 For every $1 spent, email has an average ROI of $38

An ROI of over 70 is reported by one in five companies.
Increased use of advanced tactics and targeted campaigns drive revenues.
Source: – DMA National Client Email Report 2015
It is a known fact that the best digital marketing channel that generates ROI is email marketing. However, email marketing has evolved, from the type of emails sent, the channels used, the tone of messaging, the target audience, to a change in focus on segmentation.
The Current Email Marketing Landscape
Email marketing has transformed, as blanket marketing replaces more targeted, segmented and trigger-based campaigns, the objectives of B2B marketers worldwide has evolved as well. According to the DMA National Client Email Report 2015: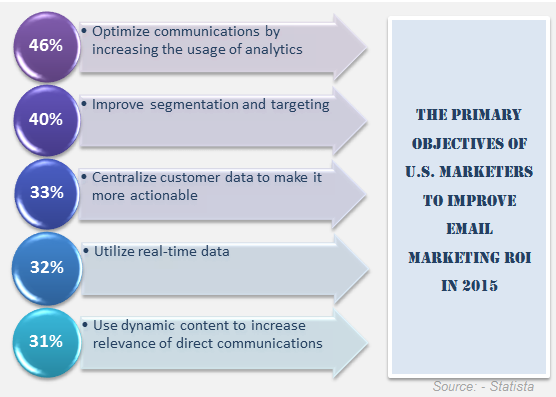 The primary objective of 26% of marketers was driving revenues through sales
Engagement is another prime objective of email marketing as stated by one in five marketers (22%)
To evaluate email campaign effectiveness, 60% of marketers use conversion rates
The primary concern of email marketers is data degradation as opposed to data availability which is no longer a major concern
Email Revenue Based on Email Types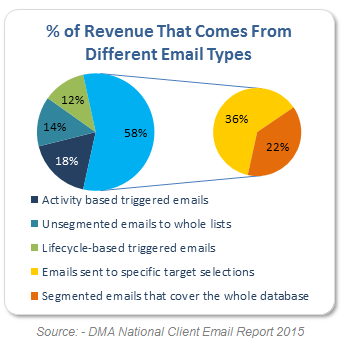 With new email marketing tactics, marketers now can improve their revenues and email marketing ROI based on the types of emails delivered.
Rather than sending unsegmented emails to whole lists, tailored and segmented emails generate more revenue. While the volume of targeted emails to segmented lists may be lower, the level of engagement higher, the relevance is more contextual, and the timing is more appropriate, resulting in increase in conversion rates.ROI based on the types of emails delivered.
When it comes to sending emails based on your customers' lifecycle, specific messages related to profiles, product use and behavior will generate more revenue.
Email Marketing Metrics
To measure email marketing ROI, some of the important metrics that you can consider include: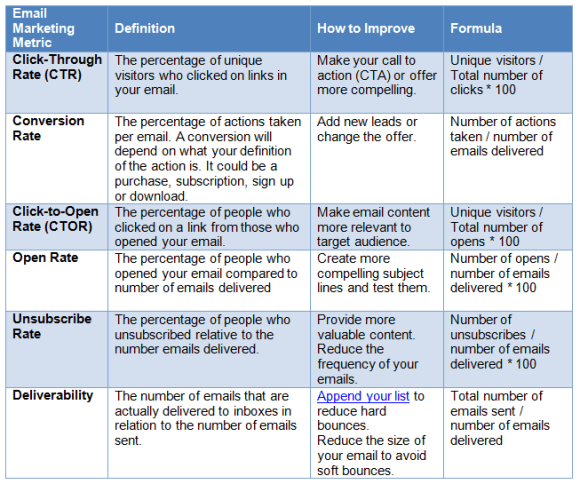 Email Marketing Strategy to Improve ROI
1.The Magic Number – Identifying the Frequency of Sending Emails
While the frequency of emails you send in a month is important, what is more essential is the relevance of the content. When you turn up the volume on sending emails, make sure your messaging is appropriate; otherwise you may risk losing the attention of your audience and increase in unsubscribes.
Majority of marketers send at least 2 to 3 emails a month. However, you need to decide what number works best for you. An ideal frequency of sending emails will be that number that lets you keep a top-of-mind position while being relevant at the same time.
2.The Granular Approach – Utilizing Customer Segmentation 
Marketers are using customer segmentation to drive targeted campaigns. You can segment customer data either by traditional definitions or you could use email marketing tools that automatically segment and personalize messages.
43% of marketers, who use segmentation, use up to six segments on an average. However, you need to remember that segmentation should serve a twice-fold purpose, of sending relevant messages to recipients and of helping marketers achieve their business objectives.
3.The Opt-In Strategy – Building a Quality List
Marketers use different touch points and channels to gain permission from customers to send emails. In email marketing, creating an opted-in list is important, without which there will an increase in unsubscribes and bounce rates.
While the content of the email should be sufficient to convince the reader to sign up, marketers have observed that a further nudge is necessary. There are many reasons why people are encouraged to sign up, if the email is from a trustworthy brand, if incentives such as discounts, gifts and offers are provided, or if it is part of a transaction or loyalty program.
Email marketing is an effective tool to connect with your target audience. If done correctly, with the use of marketing automation and with testing, it possible to send the right message, to the right person, at the right time to achieve desired results.
Sending emails cost…Make it worth it…