Personalization: The key to B2B lead generation success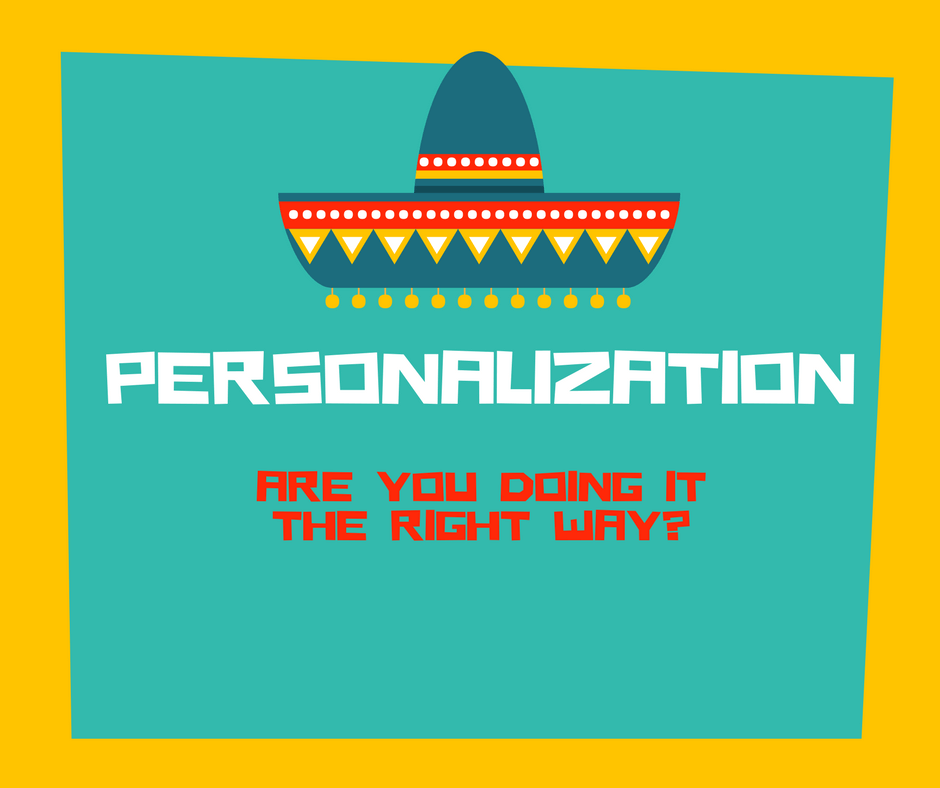 "To handle yourself, use your head; to handle others, use your heart." – Eleanor Roosevelt
In personalization use both.
Personalization– More than just a Buzzword Today!
In the current customer-driven era, Data Driven marketers like you are performing just fine! More businesses are bringing Database into action and optimizing insights to deliver highly personalized marketing campaigns to enhance buyer experience throughout their journey in the funnel.
Personalization is an integral part of any business and one of the most pivotal aspects of the Lead Generation Process.
By leveraging holistic data you can easily analyze key characteristics and buying behavior of your target market. It's a continuous process which helps marketers to build long term relationship with clients and customers.
There are 5 basic principles on which personalization works in your lead generation strategy
Retrieve: Target your audience and segment your database based on the type of campaign requirement.
Recognize: Know your customer and prospect's profiles, including demographics, firmographics, and geography and expressed or shared interests.
Remember: Know your customer's history, how they act — as against what they browse and buy.
Relevance: Reach audience with the right marketing, offer, content, product or service recommendations based on their actions, preferences, and interests.
Retain: Start nurturing campaigns for various stages of your customer's lifecycle to foster future engagement and conversions.
Can Personalization Boost Lead generation?
Marketers are constantly challenged with competition, budget, time and resources amidst which they fail to establish awareness, influence the right prospects and close sales deals. And thereby fail to personalize.
Optimizing Personalization at each stage of your customer's journey efficiently is essential for growth of any business.
A proactive Lead Generation strategy aims to enhance customer's journey by taking customer experience to a whole new level from which customers benefit.
At each stage of lead generation, marketers leverage personalization to engage with their customers in a more relevant manner. Here's how your Lead Generation Strategy can benefit from personalization:
Higher Conversion Rate: The more you personalize the top channels of your marketing campaign the more your customers will relate with your products and services. Personalized campaigns help B2B marketers to achieve seamless customer engagement and high conversion rates.
Increased MROI (Market Return on Investment): The more you attract visitors the quality and quantity of leads increases which ultimately results in higher MROI.
High Customer Retention: Retaining a customer is one of the most difficult tasks for a marketer. Feed your customer with engaging content based on their persona, preference and other factors to capture customer interest.
The Human Element: Personalization offers a human touch. Customers do enjoy shopping offline, over the phone or in-store. In a way personalization replicates the human to human interaction with customers.
Infographic: The Future of B2B Lead Generation. Insights you need to know. Read Now.
Lead Generation in the KYC era
Your Marketing Database is the pillar of all your multi-channel campaigns and so it is for personalization too. Businesses after a certain point of time require huge volumes of data. No one understands this better than B2B marketers.
B2B marketers rely heavily on Inbound Marketing or IT teams for database. Sometimes it is not enough to achieve the required goals. Moreover, personalized campaigns require more than just your traditional databases. It's more about gauging consumer's behavior, preferences and personas leveraging analytics and digital media.
Gathering customer-supplied data via digital media has become pivotal. This data allows you to track every move and act even before they reach a decision. E-commerce websites are the best examples of Personalization. So what new fields would you need other than the normal traditional fields – Name, email, Phone Address etc. for personalization?
The requirement of each data field varies in nature, size and industry as per the business. If you understand your business and have a clear understanding of your objectives you know what information you need to make your customer or client feel more special. While consumer expectations are pushing marketers for more real-time database, still many rely on basic segmentation. Customer data is spread across multiple silos, because each application has its own identity management system.
The key lies in this scattered data. The aim is to dig the key and collate the right data about prospects and ultimately leverage the same in tailored multi-channel campaigns.
Here are some categories leveraged by marketers like you to personalize campaigns:
Location
Demographics
Pages/Content View
Campaign Source
Previous Visit/ Behavior
Persona
Stages of customer Journey
Device
Company
Browser
Engage, Educate and make your Prospects Sales-Ready. Download Whitepaper "180 Days Lead Nurturing Program that Works".
Personalize, to attract New Buyers
It's a challenge filling the sales funnel with quality leads. Sales teams sell better when they have more number of qualified leads. On the other hand, marketing teams strategize better when they have a clear and accurate database. While sales teams want marketing teams to provide highly qualified leads, marketing teams expect sales teams to nurture leads. All these small gaps, in turn, don't allow the lead to finally get converted.
Personalization here plays an important role by allowing marketers to get highly qualified leads. This allows marketing and sales teams work in sync and perform better.
Earlier, lead generation was all about getting names of potential buyers and pass them onto sales and marketing to qualify them. Today buyers do their own research about the product or service before even speaking to a sales person. In fact, according to Forrester, buyers might be anywhere from two-thirds to 90% of the way through their buying journey before they even reach the vendor.
The reason this is happening more often is because buyers have relevant access to information produced by companies.
Creating highly personalized lead generation strategy will help you build trust and capture the interest of your buyer before they are even ready to contact sales.
Additionally, you don't want your sales teams spending time going down a list and cold calling. If you can generate leads for sales, the process is easier and you will see more of your leads being turning into deal closures faster.
Download this comprehensive guide and learn 16 tricks to lower your Customer Acquisition Cost at each stage of the Buyer's Journey.
The Power of Data Driven Personalization
An efficient database strategy allows you to develop buyer personas which helps you understand, not just what the buyers have done and will do, but precisely why they behave in certain ways. Only then can you craft personalized marketing campaigns that trigger specific buyers to learn more about your products and services and eventually make a purchase.
With a deep understanding of the buyer's persona, marketers may also implement customization of website pages as well, to tune the message and provide surgical page optimization right down to the individual.
As you can see, personalization can play a vital role in helping you achieve purer, more efficient B2B sales lead generation for your company. While a lot of thought and effort clearly goes into a successful personalization strategy, there's no better place to start than developing a better understanding of your buyers personas.
Personalized marketing is a great help and one of the biggest contributor of ROI. According to a study conducted by experts, sales can spike up to 20% with tailored content. Personalization plays a vital role in lead nurturing, with huge involvement between you and your target audience. Stronger connection increases the chances of conversion.
Adopting personalization techniques may help you create influential content for different categories of leads. Marketing communications depends on two different factors – messages based on online behavior and messages based on personal profile. Along with this, if the communication also gets segmented with the stage of the sales funnel then the chances of gaining the lead, strengthens.
Download whitepaper and discover how you can establish a standardized and a centralized Database Strategy. Learn how to build a dynamic database strategy to deliver seamless customer experiences and boost generation of highly qualified leads.
Conclusion
Lead generation is a long process consisting of different stages of the sales funnel. A proper process includes knowledge of what to send, and when to send by meeting the target market needs. This implicates marketing strategies, target market's characteristics, and behavior of the buyer with the objective of creating a long-lasting relationship with the customers. Personalization has become an integral part of business' endeavors and also trending as the best marketing feature. People in this stage of business market, expect a level of importance beyond general interests and targets market.
Discover how to attract prospective customers and how to increase conversion rate by creating relevant and personalized content. Lead generation is a long process, but the hard work is worth if the results are positive. So, try to modify your work process with effective personalization programs. Personalization also shows how focused you are and how well you know your marketplace. To improvise your success rate, make the audience ideology your priority with a perfect setting for analytics and data collection to nurture leads.
About us
At Lake B2B, we help marketers increase ROI by solving some of their toughest data management problems. We understand the challenges of results-driven marketers and provide solutions to drive marketing automation, personalization, and predictive marketing better.
Whether you have an acute pain to address ROI concerns or prefer to grow your capabilities over time, Lake B2B can unify, clean and enrich prospect and customer lifecycle data for your business, and at a pace that you prefer. Our Data-Driven solutions help you attract the right people, engage them better across multi-platform and gain positive sale responses, quicker!
With over 42 million verified B2B customer records and pro-change strategies, we stay leaps ahead of the competition by ensuring that each data record is Email-and-Social-verified. We have conquered the territory of high-end data services including Data Appending, Profiling, Verification, and Cleansing, in addition to Email lists & List Management services.
We would love to hear how you are Personalizing you Marketing Campaigns?