Email Appending: The Secret Ingredient to Boost MROI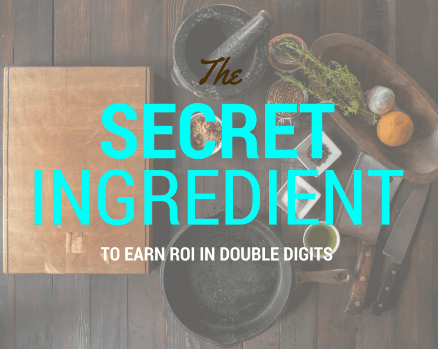 The scope of Email Appending in today's B2B Landscape
Marketing today can be summed up in one line "gauging customers by leveraging data through the current technology revolution." While Data is changing the face of the world, technology is opening infinite doors for businesses to reach their target audience and market. Over the years businesses have changed the way they interact with their customers. Selling is no more the prime objective of a business. Businesses today are matured enough to understand that the real revenue is in retaining customers. Thereby, the major focus of marketing and sales plays in catering personalized experiences to all customers throughout the buyer's journey.
And this is precisely why more and more business are adopting the data- driven marketing approach. While the idea behind running a customer data-driven marketing strategy is simple, in practice is daunting. Why? The main challenge for businesses is to acquire accurate and clean customer data which is further leveraged to craft personalized marketing campaigns with focused goals. Moreover, with data scattered everywhere on different channels, it is difficult for business to gather the right data. Although many challenges prevail, businesses today = are responsive to customer demands through robust and effective data-driven approach. Maintaining high quality of Data is more mandatory than ever.
Marketers are focusing more on converting data into actionable insights. Later leveraging these insights marketers craft personalized multi-channel marketing campaigns to find new customers, increase customer retention, better understand their needs, and increase the value of each customer. Hence the role of Data, in this strange epoch of digital and traditional marketing continues to be pivotal. The question you would like to have an answer to is how do businesses really garner intelligence from customer data and leverage it to produce revenue generating multichannel marketing campaigns? Businesses are always on the look-out for the right technology and data that will help them cater to the dynamic needs, expectations, and experiences of their prospects and customers. In a scenario wherein emerging technology is giving rise to numerous sources of rich data, businesses are now in a position to develop and execute targeted marketing programs.
Marketing Database is the pillar of all multi-channel marketing campaigns. Businesses aim to gain a 360-degree view of their customers' through their profiles. A customer profile may include fields like –social media details – from Facebook, Linked-in, Twitter etc. 'Purchase History', 'Most Visited Sites Online', 'Customer Subscriber Communities', and so on… The requirement of each data field varies in nature, size, and industry as per the business. If you understand your business and have a clear understanding of your objectives you know what information you need to make your customer or client feel special and deliver personalized messages. To be able to efficiently deliver personalized customer experiences, marketers connect with top database solution and service providers.
Data Profiling, Data Validation and Verification, Data Cleansing and so on are a few of the favorite database services among data-driven businesses. As per the results of a recent industry study, businesses rated Data appending and Data enhancement services as the number one way to garner intelligence from customer data.
Data Appending is a simple process wherein your customer database is matched with a huge repository of customer data to fill missing data or add new data to your database. You can append email, phone numbers, mailing addresses, and so on. You can add new data fields of your choice and make your own custom lists. Not surprising, why businesses are in love with appending their data. Among all types of appending, the demand for email appending is huge. This is mainly due to the effectiveness of email marketing among all the other channels. Email still has the highest return on investment than all the other channels of marketing. Hence email appending is widely used by businesses as a way to interact with their customers in a more personalized manner.
Whitepaper Alert: "How to keep your email list healthy, wealthy and growing" 
Apart from Email Appending, what else you can append?
Most of the businesses are not able to possess and maintain the high quality of data required for delivering personalized experiences to customers. Close to 30% of information that businesses acquire are inaccurate and are of poor quality, rupturing all your marketing and sales efforts. Just appending Data like email, phone, and postal addresses will allow you to drive only your email, tele and direct marketing campaigns effectively.
However, just this won't get you far if you aspire to craft high-end campaigns backed by a goldmine of insights about your prospects and customers. Insights which will help you deliver highly personalized campaigns to your target audience.
So what are the appending services that can trigger results for your enterprise?
Email Appending Service: Email is the dominant contact information, and undeniably most businesses would prefer to communicate with you through email. Make your database enhanced and marketable via email appends of the email addresses that you crucially need for your business.
Phone Appending Service: With phone number appends you can opt to phone append your existing database so that you don't struggle to connect with your targeted audiences. When used strategically Phone append can drive your telemarketing endeavors which can be the gateway to new business opportunities for greater revenue generation and customer acquisition.
Postal Address Appending Service: Postal address appending adds the missing postal addresses to your existing database. No matter how far we go with our technology, and online campaigns, there are certain campaigns that are effective only when it is run the traditional way and that's when Postal address appending comes into the picture.
Social Media Appending Service: Doesn't matter if you're running a direct mail campaign or an email campaign, you cannot ignore the social presence of your customers. You have to connect with them through all the social media platforms such as Twitter, Facebook, and LinkedIn to name a few. You can do Social Media Appending for your existing database or get the social media contacts of your target audience. It's a highly effective and proven technique to amplify results through your social media campaigns.
Reverse Appending: It's a type of append whereby one field of data is used to return all other data tied to it. Imagine a call center has a list containing phone numbers of callers who expressed interest in a product but lacks name or address? A reverse phone append will fill in the blanks. Using the phone number for exact matching to a master file, the call center can obtain the name, address, phone type, email address, and even complete demographic information associated with that particular number.
Based on this additional information, marketers can segment and send postal mail or email to the prospects, given that they are marketing to people who are interested in their product.
What are the benefits of Email Appending?
Email continues to grab the number one slot as the most effective channel when it comes to higher return on investment. Not just this, it is also a great way to enhance business through customer engagement and timely feedback. Every campaign starts with a list. If you're running short of your email marketing data, how do you expect your messages to effectively reach your target audience/market?
The success of your email marketing campaign depends completely on the list that you're using. And the best way to ensure 100% accuracy is via email appending. Regular appending of email enriches database and allows you to add brand new clients into your already existing customer database. This will in-turn boost campaign open rates, improve deliverability and foster sender reputation. Apart from higher rate of interest and campaign development and execution, Email Deliverability is another major challenge businesses are able to solve with email appending. The significance of email deliverability cannot be overlooked as it is the foundation of every successful campaign.
Complying with anti-spam laws is essential, or else you'll be penalized for each email violation. Understanding and managing these laws is another key element to ensure email deliverability.
How do businesses benefit from Email Appending?
Reduce Prices: Regular email appending decreases marketing costs by driving web traffic through emails. It can significantly increase campaign effectiveness while boosting the number of online readers for your campaigns
Saves Time: Running around to get your marketing database updated with the correct email address kills a lot of productive time. You may have to postpone your campaigns too.
Higher ROI: Quality customer data ensures higher campaign response rates. Particularly in case of email marketing, email appending can help you boost all the aspects of an email campaign.
Protects Sender Reputation: Email Appending protects sender reputation by ensuring that you comply with the anti-spam law across the globe
Improves Customer Service: Email Appending enhances customer services by adding value to customer experience through focused and targeted communication.
Whitepaper Alert: 8 Ways to make the most of your Customer Marketing database 
Steps to maintain Data prior to Email Appending
Step 1: Profile Your Data
Profiling: Data profiling helps minimize costs by pinpointing problems in your data before you launch your next campaign. It is an essential prerequisite to ensure data quality. Marketers use it more often to get holistic information mainly about customers, competitors and target markets.
Profiling services generally include:
Company information and history
Office locations
Company and product awards
Financial data
Balance sheet
Income and cash flow details
Markets served
Key customers and partnerships
Products and services
SWOT analysis
Competitor analysis
Executive bios
Organization chart
IT infrastructure details
Email addresses and social media profiles
Web site and SEO analysis
All key decision-maker and departmental manager contacts
Step 2: Clean Bad Data
Cleansing will verify, correct, standardize, and update your contact data –
This includes name, address, phone, and email address in real-time to ensure only valid information enters your database.
Step 3: Eliminate Duplicate Records
Duplicate contacts are the worst kind of data errors. Many organizations fail to realize the importance of eliminating duplicate data records. And the others may consider the process to be cumbersome and an absolute waste of time. However, it is important to realize that duplicate data can create chaos that may eventually cost your business heavily. They cost you money and cripple your campaigns by creating a fuss in analytics, segmentation and target marketing.
Step 4: Enhance Your Data with Valuable Information.
Adding information such as email, addresses and phone numbers to your database can help your Omni-channel marketing efforts remarkably. But that's not enough to survive in today's marketing scenario.
To produce more personalized marketing campaigns marketers would require demographic, firmographic, lifestyle, and geographic information such as marital status, household income, occupation, latitude and longitude coordinates, company name, and number of employees which will help them gain deeper insights into your customer profiles.
This will in-turn help marketers to forecast, plan personalized campaigns and delve single view of customers. You can engage in a more relevant, targeted communication with your customers, significantly improving your segmentation and outreach efforts.
Email Appending Best Practices
Email Append is the single fastest and one of the most cost-effective methods to build customer email lists. It is 100% compliant to all anti-spam laws worldwide assuming you follow the below mentioned best practices.
Only Customers:
The practice of email appending is valid only when the recipient is a customer as the recipient has done business previously with the sender. It is valid also when the recipient has requested information or a response to a questionnaire, or a response to a survey, or a response to sweepstakes/contest, or some sort of proven offline contact initiated by the recipient. When you send out your database for email appending, you need to make sure that the list you are sending contains only customer contacts and NOT prospect contacts.
Choose the Right Partner:
No doubt email appending is a cost effective solution for businesses but choosing the wrong append partner can hurt your business incredibly. Before partnering with one, ensure their expertise in permission email marketing and privacy policies. Your append partner should have a thorough understanding of global anti-spam laws worldwide.
Understanding the Match Process
Learn about how the service provider does the matching process. Is it a string- based logic or is there a complicated algorithm involved? If it is complicated, issues can arise. Understand how well they have been able to match using the complicated algorithms by running a test batch. If they cannot explain you this, imagine how difficult things will be if a more complex situation arises.
Household or Individual
Usually, there are two types of matching for customer-based email-append campaigns. Household matching and individual matching. In the first and the last, the street address is matched with the email and in the later first name along with the last name and street address is matched with an email. When you approach a partner to append your customer database, stick to household, as the match rates for household match batches are considerably higher.
Source of the Appended Email
Ensure that your provider provided you with the source of the email to avoid any problem in the future. The number of complaints generated in an email marketing campaign post email appending is usually very low. However, if you receive complaints you can take the data out from your current customer records.
Don't forget the Welcome Message
A welcome message is sent to all customers as it may be their first interaction with the brand, setting a strong permission tone in the message. This is also known as permission mailing.
Ensure Advertiser's Name in the FROM line
Subject line should be to the point and should not mislead
Highlight all the benefits of future interactions
Do not be salesy while taking permission, you can sell them later
Ensure there is an opt-out link in the emailer for the customer to opt-out in the future of he/she wants to.
Collect all opt-outs and add them to your Can-Spam file to be suppressed against future mailings.
Suppression
It is important to run a series of suppression, post sending welcome emails to successfully appended emails. First, you should suppress your Can-Spam database. Second, you should choose a provider who can run a global suppression which will remove bounces, know complainers, blacklist email domains, and address additional domain suppressions. These levels of suppression will ensure a smooth delivery of your welcome mail and minimize any complaints.
Whitepaper Alert: 16 B2B Client Acquisition Tricks. A guide to help you reduce Customer acquisition cost.
Email Appending in today's Data-Driven Environment- Conclusion
Most businesses consider data to be a part of a good business strategy. Over the years businesses have realized that identifying the data and metrics that impacts the company's bottom line allows marketers to regulate their priorities and preferences.
Today businesses' have become more Data-Driven. Maintaining high quality of Data is more mandatory than ever. Marketers are focusing more on converting data into actionable insights. Later leveraging these insights marketers craft personalized multi-channel marketing campaigns to find new customers, increase customer retention, better understand their needs, and increase the value of each customer. Hence the role of Data, even in this strange epoch of Digital and traditional marketing remains pivotal.
Managing marketing database is still a major challenge for most of the B2B companies. By 2020 most of the sales decisions are expected to be driven by customer database. Businesses have realized that just to save on budgets they cannot afford to land up paying a huge cost at the end. Especially when the bedrock of all multi-channel marketing strategy is Data.
According to a recent study, 56 % of marketers believe that there is room for improvement in their Database strategy. With a long-run strategy, businesses are investing more on Database services like Data Appending, Data Enrichment, Data Cleansing, Data Verification, and Validation. Clearly, Data is dominantly making its roots stronger in every business out there.
Lake B2B with over 100 million verified B2B customer records and pro-change strategies stays a step ahead in the competition. We ensure that each and every one of the 32 million data is Email-and-Social-verified. We have conquered the territory of high-end data services including Data Appending, Profiling, Verification, and Cleansing, in addition to Email Lists & List Management services. If your business is facing numerous marketing issues our business consulting services can foster and drive your marketing and sales with bespoke solutions.
We cater our vast Marketing and Data Management Services for diverse industries across the globe including:
Information Technology
Healthcare
Marketing & Advertising
Media & Publishing
Automobile, Finance
Real Estate
Manufacturing
With Lake B2B, the world becomes small for your Business -allowing your business to connect and know prospects and customers globally. Making 1.2 million telephone calls and sending out 10 million verification messages every month, we ensure your customer data is live and up to date! It's no surprise why 6 of Top 10 B2B data vendors and 30% of the Fortune-500 companies trust our Data and Related Solutions. With Lake B2B let your business connect with the future and make today brighter.
Lake B2B is ranked No.1 as the Industry Leader in delivering high-end data management and maintenance solutions and data-driven marketing services. Know what it takes to become an industry leader. Read Vendor Evaluation Report Now.