5 Key points for Sales Teams to Crack B2B Deals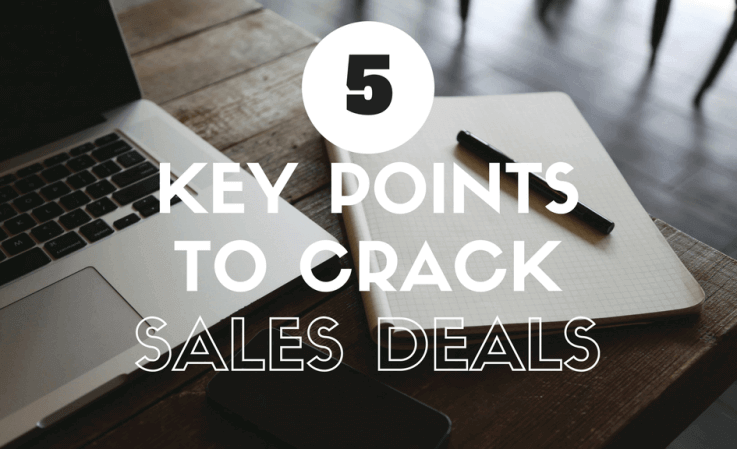 Most sales deals are a hard nut to crack. In the B2B landscape, it's cumbersome too. Even after setting early marketing and sales strategies, teams fail to reach the buyers on time.
What makes them falter?
While the reasons are many, the one that's most primary is the lack of understanding of a B2B buyer's journey and decision-making process. After all, you offer the aptest solution only when you know the key challenge.
How can sales teams overcome this barrier?
No goals are impossible for sales teams to achieve, more so when strategies are data-driven. A deep understanding of the customer challenges, pain points, past interactions, and so on can help sales teams to package the right solutions at the right time.
Moreover, in most B2B organizations marketing and sales departments work in silos. For marketers, providing data-driven insights to sales teams is one of the most crucial responsibilities. The right insights from marketers help sales teams to delve into buyer intent at an early stage.
So what kind of information must sales teams have in order to get successful at cracking deals?
Here are the six most essential elements professionals will require before approaching a B2B buyer or client.
1)Demographics and Time: Before you start with your engagement strategy know the time and place of the purchase. You'll get a brief idea of the probable challenges of the client and decision-making process.
2)Current Solutions: What are the current solutions that are installed? Who are the vendors offering these solutions? Gathering these details will give you an added advantage over your competitors.
3)Challenges: As per the Sixth Annual Demand-Gen Report 2016 B2B Buyer's Survey, 94% of the B2B buyer respondents want vendors to have strong knowledge about their company and their requirements. Thus, identifying the prospect's pain points will help you frame the right discussion points around how your solutions help address their core challenges.
4)Considerations: Gauge what the client is looking for in a solution. Nail it with an impeccable pitch and presence, stick to the major objective. Their specific buying criterion is what influences the final sale. Focus on the primary drivers of the purchase, key purchase features, and desired criteria to know what features and functionality to highlight during the sale.
5)Find the SME: Engaging in B2B sales deals requires Subject Matter Experts. Find the right person who can engage with the clients in their language. Start identifying the decision-makers and other people involved in the process.
Once you identify the main decision-makers your next strategy should include a brief engagement plan. Here's the turning point wherein most sales executives give up. With limited changes to engage, sales teams fail to impact your buyers within their research process quickly and directly.
So how can sales contact decision-makers?
Well with Lake B2Bs Database Management services and solutions. 2017 will require more than just a customer database. Sales and Marketing teams will have to align their database strategy for more human experiences in order to delve into Buyers Persona, Buyers Insights, Buyers Journey, and the Decision-making process. This is only possible with a clean, accurate, and real-time customer database.
We've been in business for over 13 years with the objective of providing an accurate global B2B database to companies irrespective of their size and revenue. Since inception, over 450 clients have used our leads to reach their key prospects, acquire customers, and run successful marketing campaigns.
Connect with our expert today and discover how data can trigger your business performance too.