Building an Email List from Scratch: Dos and Don'ts
Marshal Sequira, May 29, 2020
The fundamental objective behind targeted marketing is reaching the right audience through the right medium and at the right time. One of the best marketing methods that lets brands do all three at once is email marketing.
The email has quickly emerged as one of the most valuable marketing mediums for both big and small brands. Marketers design countless campaigns meant only for emails, and these perform spectacularly if the strategy is calculated and data-driven. Since it is almost impossible to determine who your most-interested leads can be without having the required contact data, creating email lists is the first step towards a successful email marketing campaign.
Email lists contain email addresses, names, and some professional information about people who have shown or would show an interest in your brand. As a marketer, you can create a detailed email list yourself if you follow some crucial guidelines. If you are looking to build an email list from scratch, here are some valuable dos and don'ts to guide you through the process.
Dos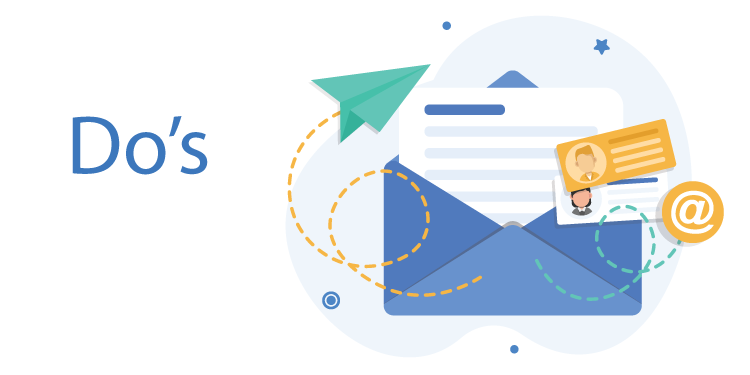 Here are some tips that will help you create an engaged email list from scratch –
1. Double Opt-in Feature
The number of spam emails and scam messages floating the internet has increased exponentially in recent years. To protect users from such emails, both Internet Service Providers (ISPs) and email services have introduced highly specialized spam filters. Even if your marketing emails are not menacing to a user's internet safety, they can land in their spam folders instead of an inbox if the spam filters sense that the user does not want to see the email. The best way to avoid this scenario is to create an email message with a double opt-in feature where people can choose to unsubscribe from your email list. This strategy is mutually beneficial for both your company and your leads. Only the most-interested leads will be a part of your email list, and willingly so. Your email marketing messages, therefore, will reach only the leads who are most likely to convert.
With a double opt-in feature, you can build a more engaged and productive email list and prevent unnecessary wastage of funds and time.
2. Personalized CTA
Any person who visits your business' website or the social page has a specific purpose in mind. Each of your site's visitors might be looking for different products and services, which means you cannot assume that your targeted client base's choice is universal. If your emails contain personalized messages addressing your customer's individual requirements, you are bound to get a better response.
In all your email messages, including a personalized Call-to-Action. This CTA should be tailored for a specific landing page and address your target customer directly. Such CTAs do not appear like a gimmick and they give customers the impression that your brand understands their individual needs perfectly.
3. Segment Email List
If your brand has a large and diverse customer base in which people of different regions, cultures, or professional positions are present, the entire purpose of personalized email communication can easily be defeated. This happens especially when you fail to segment your customer base into different groups based on their demographics, buying habits, behaviors, or professional designations. 
Always remember to segment your email list perfectly while creating it. Doing this will allow you to create more personalized and meaningful messages for your targeted leads, thereby increasing chances of conversion and enhancing customer engagement.
4. Clean Email List
Bad-quality email lists will have outdated email addresses, incorrect names, and incomplete information about your prospects. If you continue using such email lists for a long time, all your marketing efforts will be in vain.
Data hygiene is essential to your marketing strategy. If you want to maintain the effectiveness of your creative email messages, ensure that you clean your email lists regularly. If emails from a particular contact bounce very frequently, remove them from the list. Similarly, keep updating addresses and reach out to existing leads and ask them to provide updated information about them. For better efficiency, you may use automated software or a data cleaning service for cleaning your email lists.
Don'ts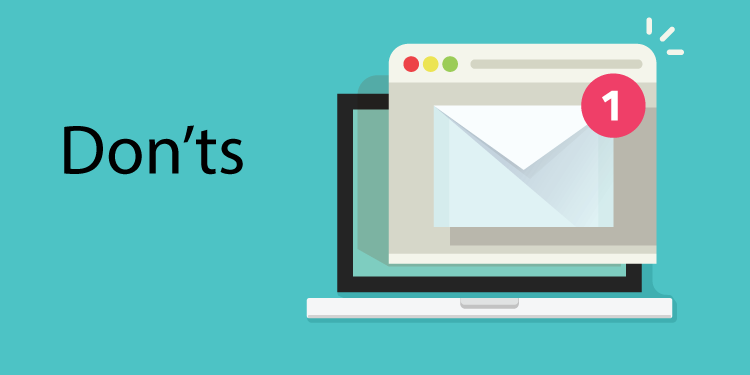 Here are some crucial mistakes you should avoid while building an email list –
1. No Subscribe Button on the Website
One of the most significant sources for contacts or email addresses can be your website. Some people who visit your website might be very interested in your brand or the product and services you offer. These are your most valuable leads, but if you fail to procure their email addresses when they visit your website, you will never be able to reach them. Brand websites or blog pages that do not have a subscribe button on the most visited landing pages will fail to collect the most valuable email addresses.
One of the most significant steps towards building an email list is a mailing list subscription option on your website. With an effective CTA on your most visited landing pages, ask your regular visitors for their email addresses and you will land some high-quality leads.
2. Ignoring Analytics
Even as you are building an email list, you have to keep sending emails to those already on the list. As you send emails to these people, you might not get the desired response from some of your leads. However, if you do not keep track of the emails that remain unopened, bounce back, or get trapped in spam folders, you will keep getting sidetracked and judge the effectiveness of your marketing strategy incorrectly.
Ignoring the basic metrics of email marketing while creating lists can be a mistake that can result in a lot of wasted emails. Keep a detailed record of how your emails perform with leads and update your list regularly.
Keeping the above-mentioned dos and don'ts in perspective, you can create a winning email list from scratch. Once you have a detailed and high-quality email list in place, you can focus on creating personalized and creative campaigns to drive better conversion. With good quality-email lists, your marketing efforts are sure to reach the right people and in the best possible manner.