This is the One Template that Will Solve All Your Company Profiling Worries in 2018

Only your customers should talk about you. Otherwise, your marketing will not work in 2018.
Achieving great marketing results is a long-term process. But the drag is not essentially a two-way street. B2B marketers need to have patience on their strategies to earn big in 2018, while also abide by the rules of least turn-around time – without any exceptions!
A speedy, accurate and empathetic response system will be the characteristic of any efficiently performing marketing funnel in the coming year. But to respond well, you also need immediate, in-depth knowledge of whom you are speaking to. We have a company profiling template that does this part efficiently.
Filter Targeted Intelligence with this 4-Stage Company Profiling Funnel
One look at your respondent's company profile – and you know her/his pain-points and the ideal product(s) to pitch. A seamless, one-shot view of your target's company profile reduces response time and improves solution relevance.
The ideal company profiling template consists of answers to the basic questions you require as sales reps or marketers. But first, you need clarity on what objective your company profiling is fulfilling.

5 Prime Objectives behind Company Profiling:
Each department in your company has a different definition to determine your prospect's worth. Company profiles should follow these different definitions, to fulfill the respective operational and functional objectives and extract the best results. There are five to begin with:
Marketing Objectives
The marketing team looks for your clients' or potential customers' future prospects. Marketing goals are mostly long-term and thrives on influencing purchase behaviors, both pre- and post-sales. Predictive analysis, data-driven multichannel campaigns are its prime tools. Profiling that enlightens channel exposures can benefit your marketers.
Sales Objectives
Your sales team is directly responsible for your company's revenue. Its goals, consequently, are for accomplishing immediate actions. Cracking a great deal requires good prospect leads. While sales automation is gaining its ground, human assets are still the main executors of the process. Profiles that can derive stages of prospect interest from personal preferences can enable sales professionals to understand their approach.
Decision-making Objectives
Decision-makers often use company profiling to evaluate their market position. Company profiles that provide viable comparative analysis, competitor reports, proper research on market standings and industry trends, assist c-suits in building strategies. Administrative strategies can be independent of other departmental authorities or can supersede their respective operational decisions. Chief executives like CMO, CTO, CIO, CSO, CEO, COO, other board members or the company's internal think-tank are generally at the receiving end of these reports.
Financial Objectives
The financial information in a company profile generally solves the sole purpose of evaluating the prospect's buying power. Other concerns addressed include exploring financial feasibilities of delivering promised services (or the execution of the deal), justification of sales and marketing spends behind the deal, and finding possibilities of further upselling. Profiling services should provide financial information like revenue, sales volume, budget allocations for IT and other key operations etc. to enable efficient decision-making before the deal reaches the table.
Technical Objectives
Technical information of the prospect company assesses the technological ramifications required to meet client expectations (situations like when a new technology has to be acquired to fine-tune the product or to provide customized services, when your technology has to match up to the client's existing business tools etc.). A company profile that covers its technology usage history and its present technological affiliations is extremely helpful for this purpose.
Once the objective is sorted, it needs to be translated into definite profile requirements. Based on this, the information wire-frame is created. Objectives differ by industry, job roles, locations, and by companies too. Yet, their crux revolves around these five core functions. Each of these functions can be designated to a separate profiling template.
7 Questions that Our Company Profiling Template Answers:
Expressing a company's history, present and future in one compact format is not easy. You need to ask extremely definitive questions to make company profiles an actionable instrument in the processing of your deals.
Our company profile template gives you a clear picture of the below scenarios. The first set of questions are for the profile. The trailing questions are to ask yourself.
Where does the prospect company lack? Do they really need my services?
What are the demand-supply gaps? Is my company in a position to serve this company?
What is the company's current market position? How does this deal impact my market reputation?
What returns can I expect from this deal in 1 year? In 5 years? Do I have a future with this client?
What budget and resource need I spend to complete this deal? Can I afford it?
How are their strengths faring against competitors? Do I have a better prospect at hand?
Have they employed any other agencies, or looking to? Do I need to watch my back?
Look carefully! These questions act as milestones at different levels of your sales cycle. You can even establish your deal completion goals based on these answers.

25 Smart Information Fields that Form Your Company Profiling Template:
Based on your chosen objective and the above answers (goals), you now have a solid basis for collecting company information that is relevant to your business. The below list comprises of 25 such smart information fields. Each field solves a definite purpose.
Basic Company Information & History
Office Locations
Company and Product Awards
Company Financial Data
Corporate Balance sheet
Income & Cash-flow Details
Operating Markets
Key Customers & Partnerships
Products & Services
SWOT Analysis
Competitor Analysis
Executive Bio
Organization Chart
IT Infrastructure Details
Email Addresses
Social Media Profiles
Website & SEO Analysis
Decision-maker / Department Manager Contacts
IT Budgets
Employee Size
The 4-Stage Company Profiling Funnel: Responsibilities for You & Your Service Provider
While your service provider can fill the company profile based on any of the above objective templates, it is you who can truly define your purpose and optimize the profile to your gains.
The following flow-chart defines the parameters: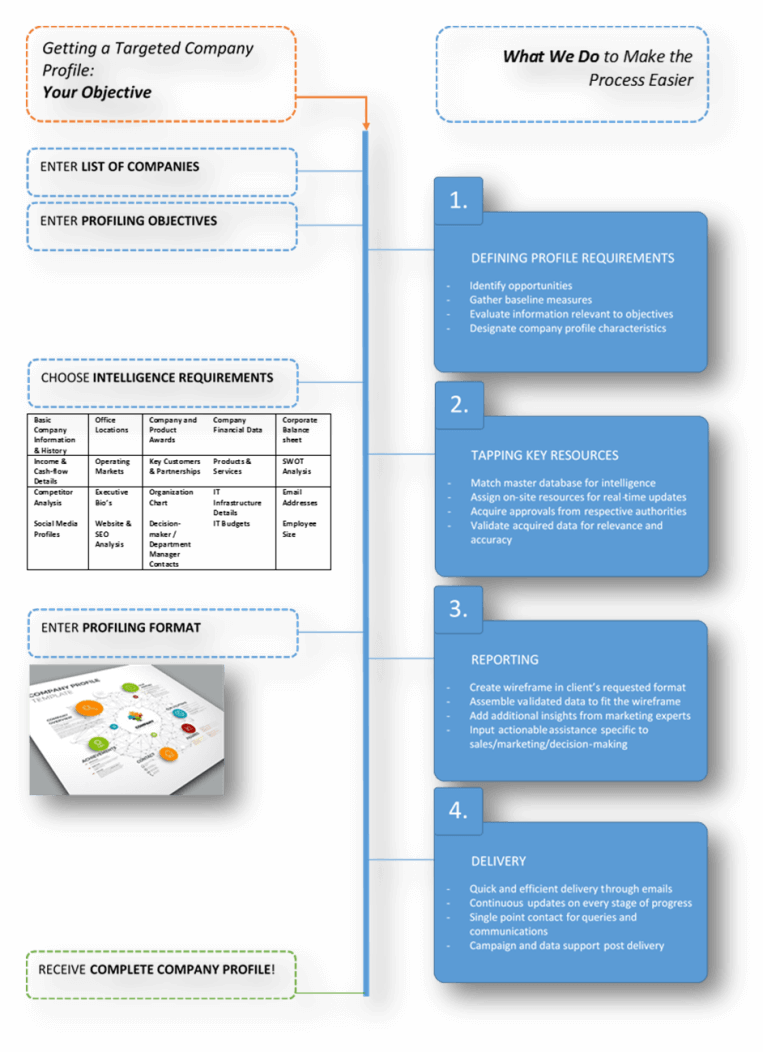 Did we miss something? Let us know in the comments below! For other data and digital marketing related issues, contact Lake B2B's expert panel 24/7.
For more revolutionary marketing insights, subscribe to our newsletter!


Comments