Online guerilla tactics: Marketers' secrets of real-time growth hacking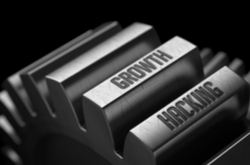 This is an exclusive reading material for startups who require ingenious methods to market their ideas in real-time before entrepreneurial concepts get duplicated. The beginning of 2019 will see explosive real-time guerilla tactics to increase the success rate of original concepts.  
Highlights of marketing growth hacks for 2019
Inbound is king
Provide useful information generously
Keep giving information consistently
Hyper-customize: Personalize your messages
Video blogs are gaining mindshare
Keep building new user base
Keep building new marketing database
Give answers on forums; join social media conversations
Re-use older content pieces by updating information
What worked? what did not?
So, how was 2018? Were you able to meet your marketing goals? Was something crucial left behind in the journey? Did the marketing growth hack you used pushed the business concept forward?
Growth hacking is critical and analytical for companies to move ahead of peers. Every year, new hack strategies dive into the crowded market environment. Will you be able to discover a new method? Will the over-towering presence of GDPR still be an advantage for digital marketing teams? And which is the online platform that will buoy your team spirit? Don't depend on only Twitter or FB anymore to dish out leads.
Pillars of growth hacking
While ingenious growth hackers or marketers continue to experiment and create new processes, they are still bound by the pillars which cannot be broken down.
The future of growth hacking will continue to depend on:
Consistent evaluation of marketing initiatives. Before adopting any new strategies, an audit of leads and conversions is mandatory.
The assessment will reveal the new goals for 2019. Can they be achievable? If previous experiments have failed, you will need to rework your hypotheses.
Conducting multiple tests reveal the best paths to reach the goals in the first quarter of the new year.
Optimizing trial runs which reach a significant level. The larger the trial base, a better growth structure can be formulated.
During trial runs, often game-changing tactics are revealed. Share them with the team to maximize the new revenue model.Example of testing
An experiment is a secret tactic that can be conducted in different ways. For example, experiment with the subject line of the email. If your approach towards it was traditional in 2018, then go bold in 2019. Grab those eye-balls with unique one-liners. Another prime specimen should involve the study of landing pages that convert the maximum leads. Think about how they can be duplicated with other pages in 2019. Experiment with some engaging content that links to these pages. Conversion Rate will still be the major growth hack technique in the coming year.
The best methods to do so are furnished below.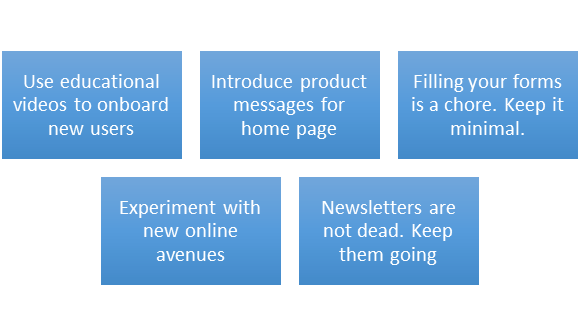 Bonus: 2 no-cost marketing growth hacks
Generously give answers on online discussion forums. That builds your authority and credibility.
Join in conversations on social media. Don't pitch your products or services; just give helpful answers/suggestions.
Clean up your content, inboxes, contact lists, social media profiles
Re-use: update and re-post older content pieces.
Marketing is a never-ending race. You have to continually keep track of consumer preferences and competitor activities. Only then can your brands give you the desired returns.
In today's age of digital marketing, the race is even more frenetic. Customer preferences are fickle, search engines keep shifting the goalposts, and competitors keep working on their content and delivery.
While we are almost at the end of 2018, you do deserve to take a step back and allow yourself a breather. But this break can also be utilized to plan ahead for 2019 and beyond.
As you get ready to get into the festive season, let us look at the two most useful marketing hacks you can use in 2019 to give new teeth to your digital marketing strategy.
Answer questions on discussion forums; establish yourself as an authority in your industry matters:
We have come way ahead of the olden days of marketers sharing their messaging to a large number of people and hoping that some of them will become prospects.
Today's consumer is much more proactive. If someone is looking for a product or service, he or she would come out and do their own research, ask their own questions. Many of these questions are asked on forums like Quora, Reddit, MouthShut. A lot of discussions happen on social media like Twitter and Facebook too.
You should be browsing the questions there, and if you see any pertaining to your brand, you are in luck, and you can provide clarifications immediately. Even if it is not about your brand in particular, it could be a question related to your industry. If you regularly answer such industry-related questions well, you can quickly become respected as a domain authority. That will also help you get useful backlinks for your own website or blogs.
Do some spring cleaning; you'll find lot of reusable content, and get rid of lot of junk:
The end of the year is a good time to delete unnecessary mails from your inbox, unused numbers from your phone's directory, and inactive friends/connections from your social media profiles.
But this spring cleaning sometimes also brings you things which you could still find useful. Your earlier content is one such thing. Browse through your old social media posts and your archived blogs. You will realize that some of them are still pertinent. Dig them out, update the data and details, add some more insights you might have got recently and post it once again. Many of your followers might have missed it the first time round, or they might have joined you after it was posted. This will help you get better mileage from your content.
Another thing you can do at the end of the year is to recalibrate the list of whom you are following on social media. You will realize that there are many who have never given any sort of response so far. Get out of such inactive relationships. On the other hand, you will see that there were many whom you had planned to follow, but never got down to actually following. Take this opportunity to follow them now.
Real-time guerilla tactics in a nutshell
While using new strategies don't forget the 'bread and butter' of digital marketing – inbound marketing. It continues to work in real time.
Continue the focus on content which adds value to the customers. They do want to know whatever new is happening to the old brands that they use. Keeping things personal will still score with them.
Don't give up the online tactic of blog creation with video content. It will be widespread in 2019. It has already established as a real stamp of approval from genuine customers.
Startups need to build a brand-new user base
Keep in mind the pillars of growth hacking (listed above in the beginning of this article) before entering the online battlefield.
Comments