Redefine your Definition of Customer Engagement Strategy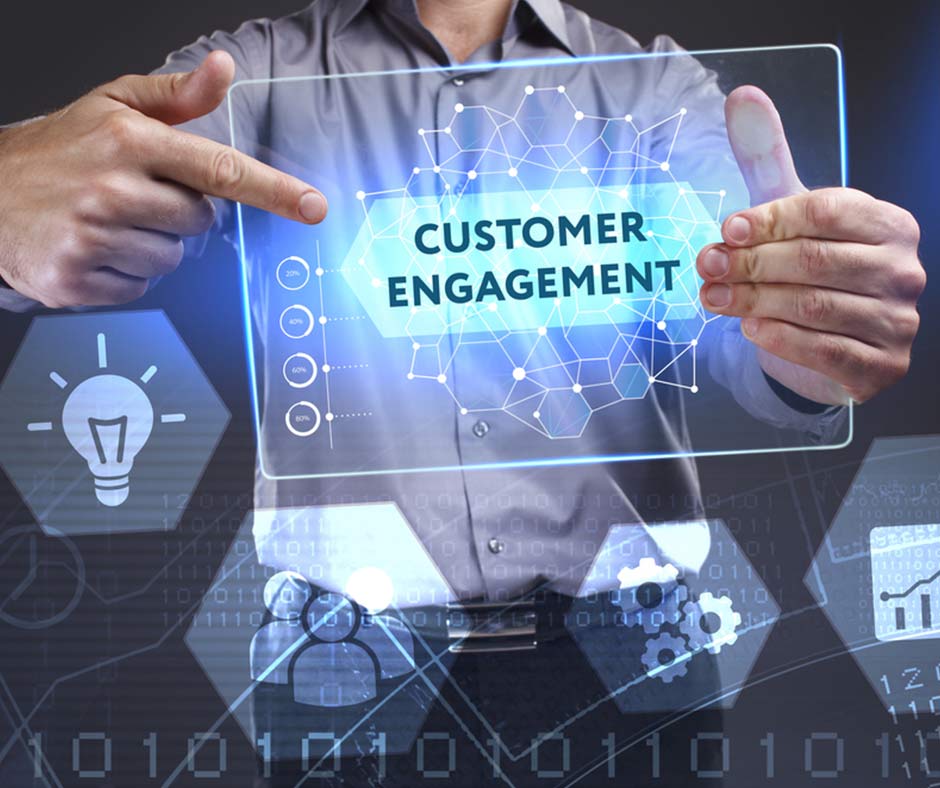 A potential customer that helps your business grow is surely for keeps. To pursue him into your sales funnel requires a tactical customer engagement strategy. Amongst the numerous alternatives available, what progressive measures has your business adopted to keep customer engagement strategy as a top priority?
Proven customer engagement strategies you must use
The objective of this quintessential premise is simple: any B2B marketing company, should have an engagement strategy that aligns to the core business objectives. In order to do this every business needs to identify the value of their target customer and understand the importance of the channel used to enroll engagement strategies. Measure, review and refine your techniques so as to evolve customer proposition and optimize the chances of achieving the objective.
The process of prospect engagement from the beginning to the end is to be followed with consistent speed, dedication and patience. You are sure to reap the benefits, and will be rewarded with leads that have converted into actual sales. Sometimes following a fixed plan does not give the expected results. Customers seek help only from experts. By providing your leads with the answers they are looking for, you can assure them of their buying decisions.
Here are the key drivers of a customer engagement strategy– Diagnose, Engage and Initiate. 
Step 1: Diagnose
Due to the numerous digital channels available, mapping an engagement strategy to suit the core business objective is a daunting task.  Offline customer touch points and the options for engaging with your customers are wide and varied.
Here are a few important questions to start with:
Who is the customer?
What do they want?
What do you want to tell them?
What do you want them to do?
How will you deliver and measure engagement within the constraints of your available resources?
Understanding your target audience is the key to engagement. Diagnosing and identifying customer needs can be broken down in the below techniques.
Segmentation: Segmentation drives decision making and ultimately results in measurement of metrics. It helps you focus your target prospect group.
Mapping: With segmented data in hand, mapping helps you identify customers that are willing to engage as potential leads and build a valid marketing strategy to capture their attention. With a list of email addresses, you can map your marketing plans efficiently.
Buyer Persona: Once you have the mapped data of your customers, sync it with an ideal buyer that matches with your business offering. This triggers audience purchase drivers and highlights the customer areas to focus on.
Customer Touchpoints: Evaluate the basic touchpoints of your customer like buying patterns, social influence and take appropriate measures to ensure your customer chooses you every times over others.
Marketing Investments: Organize and plan your marketing spend. Decipher an optimizing model to identify the channels of engagement process for a seamless marketing campaign. Buying business email lists is a great investment to give a head-start to your marketing campaigns.
Marketing Channels: Promote your services through interactive channels that meet the customers' demands. Build strategies to integrate the role of each channel effectively in your overall marketing plan.
Step 2: Engage
The process of customer engagement from inception to the final stage is to be followed with consistent speed, dedication and patience. You are sure to reap the benefits and will be rewarded with leads that have converted into actual sales. Sometimes following a fixed plan does not give the expected results.
For instance- traditionally, people followed customer touch points like personal meetings, telephonic discussions and emails to interact, now with an online presence, marketers can seamlessly boost sales. Find below techniques that help engage potential prospects:
Think Innovative: Businesses need to develop agile mindsets to progressively build business strategies. Current trends, advanced technology data, out-of-the box solutions and impromptu thought process keeps the customer hooked-on.
Leverage Technology:  Build, deploy and optimize resources to have an effective data infrastructure in place that creates demand generation. Data with real time efficiency and personalization of services keeps the customers engaged and wanting more.
Data-driven Marketing: This methodology is enabled through robust marketing analytical tools, which closely scrutinize complex customer behavior and save you time from venturing towards the wrong leads. Email lists, data appending, appointment setting are ways to enhance data driven marketing services.
Step 3: Initiate
When a potential customer interacts with you, it is the marketer's duty to gauge more details and relevant information, look for ways to consistently engage with them and ultimately seal a long standing relationship. Doing so requires- you as a marketer or business to completely understand your customer and his demands, enable a seamless transaction between both the parties and find solid ways to build advocacy. Find below techniques that help initiate potential prospects to your business:
Redefine Customer Relationships: Customers add value to your business. Apart from first time customers, there are revisitors, influencers, referrals and resellers that would endorse your services.
Shorter Sales Cycles: Provide customers with an easy path to the final purchase without getting them involved in a complicated process. Include CTA's, offers, promotions and most importantly uplifting content helps the customer to make buying decisions.
Customer as Business Advocates: Along with exemplary business services, provide customers with value added benefits, cash rewards, referral bonus, recommendations and social shout-outs that would initiate them to spread the word about your business.
With any customer engagement strategy, it is to be kept in mind that- the customer or lead needs to be at the primary focus of your plan. Integrate customer requirements with business ideals and enhance experiences which will help you grow and achieve optimal results.
Here are some key takeaways to be followed to ensure a successful engagement strategy:
Identify requirements of your prospects
Start with data collation
Regard your customers perspective
Provide personalized conversations/solutions
Pursue, but do not pressure
Test your campaigns
Our experts can offer solutions best suited for your B2B marketing campaign. You can connect with us here.