What are the KPIs for a CMO? How are they measured?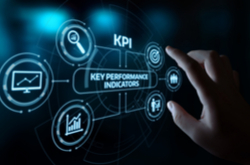 Marketers are the front-end leaders of a brand and eventually, the company as such. But unfortunately, at the C-Suite level, a CEO is more likely to trust and appreciate the contributions from the other CXOs than the CMO. Reason – all other C-Suite members from the CIO to CFO, COO and CTO have very defined metrics that connect back to overall performance of the organization.
It is not that the CMOs do not have metrics or Key Performance Indicators; they do. It is just that these KPIs should tie back to the overall performance and growth of the organization. In that vein, let's discuss some of the top KPIs for the CMOs of today.
Brand awareness and perception
Invariably, the very first thing that a CMO is responsible for is the ''branding''. Have the marketing efforts resulted in better perception and reception? Can customers relate better to your brand? Are they likely to associate with your brand for a longer time? The answers to all these questions will help C-Suite understand and realize the contribution value of the CMO.
A survey of 562 CMOs and brand managers by OnBrand Magazine revealed that ''Brand Awareness'' is the 2nd most important priority for them. Brand awareness and perception is what lead to customer acquisition.
Customer acquisition matters
The same survey of 562 branding professionals revealed that ''Customer Acquisition'' is their top priority; a whopping 75% of them said so. This is a clear sign of what is to come – the CMO of the future will be more actively involved in the direct growth of the organization. Customer acquisition is a very measurable objective and for the CMOs looking to prove their worth at the C-Suite, it is an important KPI.
Now, how do you measure customer acquisition? In simple terms, it is the amount of marketing spends divided by the number of customers acquired through these marketing efforts. In short, the customer acquisition cost or the cost for acquiring one customer should be lower as time progresses.
Revenue Generation
You might be tempted to ask – Why revenue generation as a target? Well, times have changed and with a redefined role CMOs of today will have to be responsible for achievement in sales. Definitely, the maximum onus for sales and revenue generation will rest with the CRO or the Sales head but the CMO will be playing a key role here. A key indicator will be how much of the marketing efforts (and budget) has actually translated into revenues.
It would augur very well for the CMO and team to present a case on what percentage of the total revenue has actually been generated through the marketing efforts and how effective the marketing strategy has been for sales growth. In fact, marketing-linked revenue generation might well be one of the most valued KPI going forward.
Customer Experience
Cut-throat competition has resulted in companies coming out with better quality products and this in turn, has put pressure on companies to ''please'' and attract customers.
With knowledge at the click of a button and paucity of time, customers are looking beyond product quality – they are looking for a unique brand experience. This is where an extended role of CMOs comes into play – they will have to come up with a strategy to provide a unique and delightful customer experience.
One way to measure the impact of customer experience is by understanding how many customers have been retained via this experience. It is true that customer retention is dependent on various factors but a truly delightful customer experience can drive customer retention in more ways than imagined.
Next UP: What additional support CMOs need.