Firmographics: Take a cue to customize recommendations to each company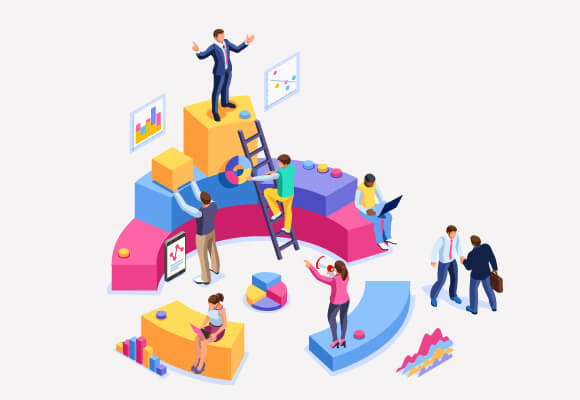 Use firmographic data like employee count and revenue to determine the size of a company and make a personalized recommendation about which plans is the best fit
When you are carrying out B2B marketing, the biggest issue is that you are not dealing with a single person. There could be a large number of stakeholders and decision makers. Sometimes, corporates also have committees to make their buying decisions. In such a situation, one of the most potent weapons you can use is firmographic data.
So what exactly is firmographic data? Put simply, when you are into B2B marketing and targeting companies for business, firmographic data is a set of data which helps you segment your target companies on the basis of useful data about the companies.
There are a number of criteria you can use, like the location and geographic spread of the company, kinds of clients it has, what technologies it uses, which sector it is part of, and so on.
For example, if you are offering the shipping of your products in a particular city or in a province, then it doesn't make too much sense for you to target companies which are not in that geographical area. But let us focus on two specific data points among all the types of firmographic data. The first is the size of the company in terms of its employees and the second is its revenue performance.
When you have a number of products or service offerings, then these two data points would help you make the best recommendation about which combination of your products and services would make the best fit for your client.
Let us take the example of company size. You could be targeting a small startup with less than 50 employees, or you could be targeting a mid sized company with about 300 employees. On your size, you might be offering a mail suite which is on a pay-per-use model. Now the number of employees that would need to use your offering needs to be found.
The plan your client chooses should be such that it can be scaled up as the company grows in size. On the other hand, it would be a shame if they have to pay more without that many employees actually using your offering. That is why, for this kind of an offering, the size of the employee count is one of the most important firmographic data you should use.
The financial performance of your prospective client is also very important. Let us say that you are offering a tax and regulatory compliance software package. Most countries have different requirements for companies of different sizes.
Your offerings would make sense only if it can meet the requirements of the company which is buying from you. If your package doesn't have the ability to compute the returns and filings for a company of a certain size, then you would be better off pitching it to smaller companies only.
Unless you have the perfect firmographic information of the prospective client you are pitching to, the content of your messaging would be all wrong.