Do's & Don'ts of Using Email Append Service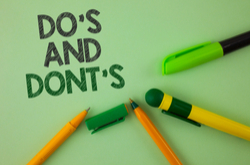 From older businesses relying solely on the postal address to enterprises looking to append or update their consumer database, email appending is today an essential part of marketing prerequisites. Email appending for all its benefits also runs the risk of ruining the brand value of the business should it be seen as someone not caring for consumer data or personal preferences.
So while email appending allows businesses the leverage to update their mailing database lists, it should be used in a professional manner for best results. Here is a list of some of the definite do's and don'ts while using email appending services.
Do's when undertaking email appending services
Be wary of high claims of email appending companies: When seeking email appending services, be wary of companies claiming to have a huge database to map results. While a bigger database can lead to higher match results, do not get carried away by superfluous claims of a huge database.
Opt for a cleaned Master file: The professional email appending companies ensure their master file is cleaned and in accordance with various data cleansing parameters like the U.S.P.S. Delivery Point Validation (DPV). Opt for such cleaned database offering email appending companies for the best value for money mapping.
Stay away from brokers or resellers: Today there are numerous third-party resellers and brokers offering data appending, email appending services etc. It is best to avoid such resellers and coordinate directly with a professional email appending.
Opt for email appending companies with a proven track record: The best way to seek an email appending service is to get a test batch appended. Check on the mapping parameters used with a focus on their track record in terms of following anti-spam regulations and data privacy.
Don'ts when undertaking email appending services
Don't get potential clients mapped: Businesses often commit the mistake of getting their potential clients mapped. Email appending must be limited to only those consumers or b2b contacts that are on the company database in some way or the other. Reaching out to a potential client can actually turn against the company as someone not respecting privacy and data.
Don't choose appending partner based on just the price: Choosing an email appending service provider based on just the price is a definite don't. Unless the business has a robust database which is both clean and updated, having a low-cost email appending may not offer any value addition. Also opting for a cheaper email appending company runs the risk of running into being blacklisted for anti-privacy and spam regulations globally.
Don't mix permission mail with marketing pitch: when seeking opt-in permission from mapped clients or b2b contacts, it is best to avoid any marketing pitch. Respect the privacy of the consumer or b2b contact and chances are high of getting approval for receiving future communication.
The Last Word: Following these common do's and don'ts email appending can work for the benefit of the business and offer database updates useful for marketing teams.