Best Solutions for Generating a Professional Healthcare Email List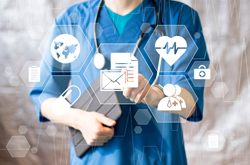 Just like any other sector, digital marketers in the healthcare industry require qualified contacts to expand their business. They can easily target the right vendors. Your contacts should keep coming back as patients trust and return to the same doctors.  
Best practices for content marketing and authentic suppliers for fresh contacts develop strong relationships. Let's diagnose your issues and some suitable elucidations. 
Engaging healthcare audiences
Healthcare industry has started using content marketing to reach out to medical experts, cardiologists, patients, dentists, pharmacies, nurses, testing laboratories and also blood banks. The three most avenues to get contacts include SEO, social media and email marketing. The corresponding content may not work on all the platforms. But they need to be promoted for awareness and getting in touch with the target audience.
Until now websites and blogs were the particular channels to get audience engagement. Marketers use earned and paid media to reach out the content as competition heats up. Strategies fall flat and efforts go down the drain due to several wrong moves. One has to find out the finest solutions that throw up positive results.
Content marketing matters for healthcare marketers
Consistency in your offerings, being adaptable to fresh trends and organizing strategies to suit latest demands is vital. Medical professionals do not possess the time to deliver content to expand business. They are unable to promote practices in the way other enterprises accomplish. Support these practitioners and benefit from their profession.
To get in touch with them contact via email is easier said than done. However, it is by far the most popular way to capture their attention. It maybe indispensable to buy email list for marketing. Connect with the genuine medical professionals to discern their needs and patients. Reaching and influencing them with relevant information makes you trustworthy.
Once a connection is established, subsequent contents can be personalized. If you are in the process of generating a recent list, designate a vendor who offers a range of services and listings.
Some different segmented contacts provide information on mailing:
Medical services
Hospital administrations & food services for patients
Blood banks
Physicians & family doctors
Nurses
Healthcare executives and consultants
Dentists & Audiologists
Dental equipment makers
Laboratories & diagnostic clinics and trial professionals
Experts like cardiologists, neurosurgeons, orthopedic doctors
Technology services for EMR records
The lists are becoming niche and marketers can convey specific content to distinct segments. They can devise messages for first time emails, follow ups, equipment & medical devices promotion of innovative products and portfolios on offer.
This seems to be an appropriate solution with benefits like:
Communications and campaigns increase speed for business development
Access is secure via authentic channels and addresses
The database is error free and responsive when bought from the reliable vendor
The contacts can be verified and confirmed before content is sent across to them
As delivery improves, there are better chances of ROI and conversions
High opt-in data for ceos, executive level people come from authentic providers
Frequent updates on the customer base make the partnership more valued
Generate specific goals to succeed
When you have tried and tested the vendor's list, set goals for the content strategy to work.  Your progress depends on these points:
Information relevance and creativity in offering solutions.
The blog or message should lead to the website for further awareness and call to action.
Identify people who are in the concluding stage of buying.
Establish the audience from the start and provide constant updates to keep them engaged.
Select suitable online channels to connect.
Persuade the audience to support your objectives and goals.
Do market research also to find out what people in your industry need.
Before actually using the email list scan and access it for any errors.
Apply your creativity to connect
Like other sectors even healthcare marketers can succeed with email communications in cost-effective ways. For open and click rates be creative and sensitive with the content that is being sent out. The subject line should remain an eye opener for the professional for a quicker CTA.
Avoid putting words like 'sale' or 'offers' in the subject line or the message as they do not gel with the best practices in this industry. Personalization in the right manner works wonders. They ensure the content does not land up in the spam folder. There is no harm in arranging a tie up with your brand with an influencer or a celebrity. They can be connected to the health campaign in the specific field for motivating results.
Choosing the accurate words establishes the difference online. Hence, the keywords and hashtags will make your brand bigger. As you use best practices, solutions will appear on the horizon and keep your marketing healthy.