LeadsCon 2016: Activate your Business with Olympic Sized Data Solutions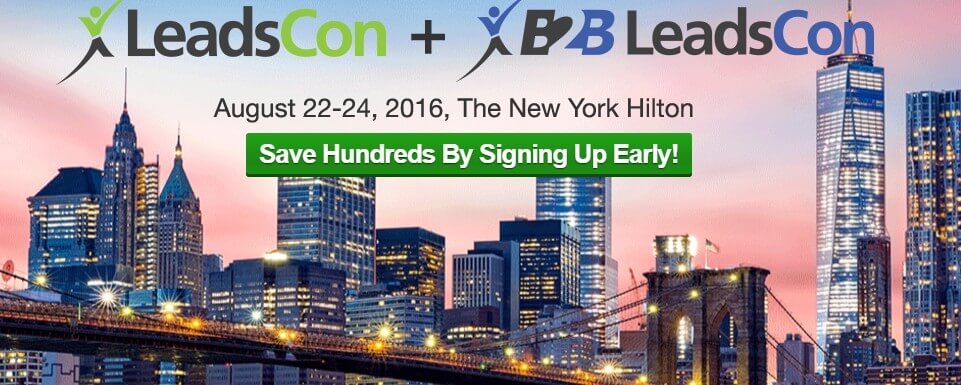 Marketers' worldwide are on a continuous quest to discover and implement innovative marketing strategies to gain a competitive business advantage. If you are one such Marketer here is a great platform to dive into. LeadsCon, it's back again and this time it's Bigger and Better!
After Las Vegas in 2015, Its New York hotel Hamilton is all set to Host LeadsCon 2016 from Aug22-Aug24. A three day marketing extravaganza designed specifically for business's to
Operate More Efficiently
Save Costs
Build sales funnel
Network with Top performance marketers and Industry Thought leaders
LeadsCon is a perfect platform for global Buyers and Sellers to collaborate and explore business needs and opportunities. Doesn't Matter if you're a B2C or B2B marketer, if you are in Business LeadsCon is for you.
The event is tailored into two streams – LeadsCon & LeadsCon B2B.
Attendees of both events range from executives to leaders and are highly focused on performance marketing to boost their lead counts, and bottom line increasing their conversion and sales.
LeadsCon- Why Should you Attend?
If nurturing and converting quality leads are essential to your business's growth and success, then LeadsCon is for you. It focuses primarily on consumer leads.
Learn online about lead gen and direct response marketing and connect with top companies and marketing icons in vertical media and direct response marketing.
B2B LeadsCon- Why should you Attend?
 If you are involved in lead generation, nurturing and conversion, B2B LeadsCon is an event you must attend. A few of the profiles attending this show include personnel from lead generation, marketing and sales.
Discover the Latest Tools, Tips and Techniques in B2B Lead Generation. It's the only event devoted exclusively for B2B Lead Gen with a great emphasis on lead acquisition, nurturing and conversions.
If you are keen on witnessing the complete LeadsCon suite covering all the major events, presentations and workshops, kindly ensure to get the Total Access Pass while booking your seat.
The Pre Show Digital Workshop
Path2Conversion: A must-attend special pre event for any digital marketer. It's a Two Tracked Event covering one full day of engaging insights, best practices and inspiring case studies. Be there to discover where technology is taking digital marketers and consumers today.
The Fun part:
Along with some serious business lessons, Tips and opportunities, LeadsCon is fun too.
Taste of New York: A Networking Reception August 23, 2016
which will highlight the spectacular history of New York City – including some of the popular street food from the city, drinks and local giveaways.
Kick-Off Party @ The Sky Room: A Kick-Off Party takes place at The Sky Room, which boasts 360 degree view of The Manhattan and The Hudson River from the city's highest rooftop lounge.
Feeling your adrenals yet? Hold on! It doesn't ends here.
Sip of Summer: Cool off after a successful show with refreshing signature cocktails, delicious summer snacks, music, and plenty of great giveaways.
Fly with Lake B2B
 LakeB2B is one of the proud Sponsors of LeadsCon 2016. Since inception we have been at the forefront of data management services, list solutions, and customer data insights since inception.
We provide data centric solutions to a wide range of business-to-business companies. Our focus over the years has been on improving the efficiency of marketing campaigns, driving more revenue, and increasing profitability of sales and marketing teams in organizations.
Join LakeB2B at LeadsCon 2016. Receive 20%  Off on the Total Access pass – Only Available Here!
Use VIP Code "B2BLAKE20"
LeadsCon 2016 is your chance to transform the future of your business. Check out the streams of the event and start building your personalized agenda right now. So what are you waiting for, click here to reserve your seat.