Do You Really Need Email Lists For Healthcare?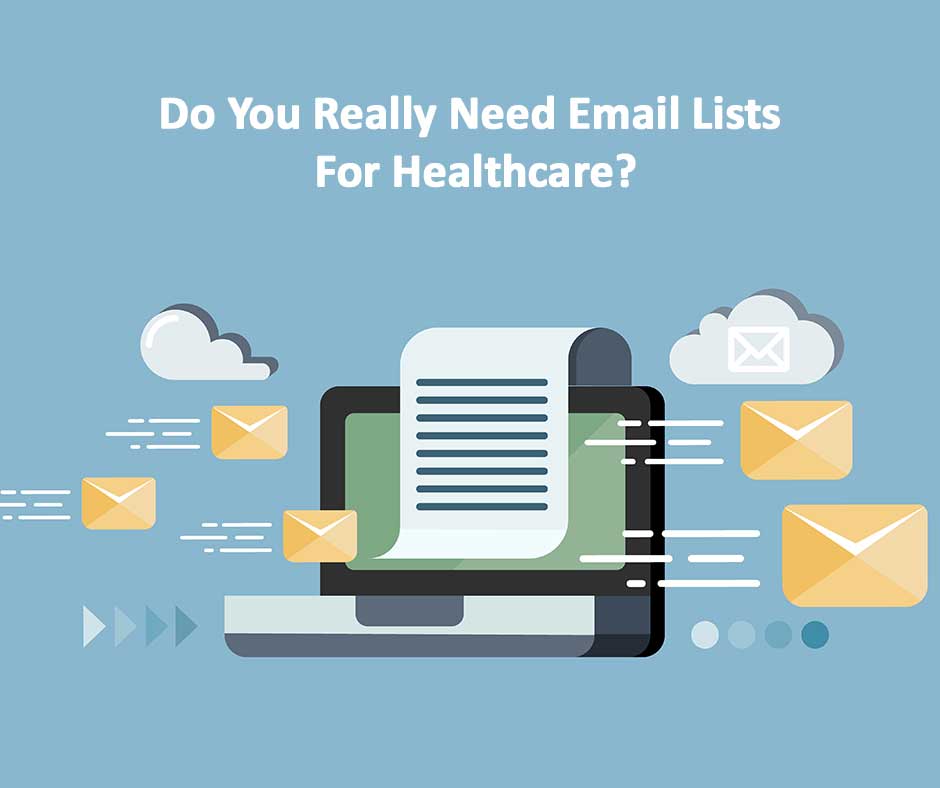 Do you market to physicians, hospitals or healthcare providers? Do you sell your products and services to the healthcare Industry? No matter who you sell to in the healthcare market, equip yourself with multisource targeted email lists!
Discover the Importance of Purchasing Email Lists for Healthcare Industry
An efficient healthcare database includes comprehensive data mailing lists of Doctors, Medical Practitioners, Medical Specialists, Medical Representatives and various other professionals of the healthcare industry. These mailing lists are essentially targeted to a broad range of healthcare suppliers- mainly hospitals, healthcare institutions, medical device sellers, medical billing companies, medical representatives and numerous others located worldwide. With the vast area coverage, businesses have to adapt to healthcare data accuracy as a mandate. This would definitely lead to quality assurance and valued data solutions.
There are a number of healthcare decision makers at the Senior Management Level, Finance, Operations, Purchasing/Procurement, Sales & Marketing, Administration, Information Technology, and Maintenance with independent budgets. These decision makers need to be present at the right location for maximum effectiveness of marketing campaigns specifically targeting them with a variety of offers that include:
B2B healthcare product offers
B2B healthcare services offers
Hospital Equipment offers
Maintenance and Safety training workshops
Healthcare training and workshops
Doctors' and Pharmacists' Events
Job opportunities and more
As healthcare industry suppliers, medicinal services provider or medical administrator, the requirements for proficient healthcare email lists is always top priority. The continuous efforts to own a reliable email lists that would get you long-lasting industry contacts can be a daunting task. While heading the organic way to build in-house email lists is available, the benefits of purchasing- safe, accurate and targeted mailing lists are many.
With Healthcare marketing mailing lists, marketers have got a specific population that they serve. It comes from multiple data sources like contacts by job roles, geography, and segmentation. With this, B2B email marketing, direct mail marketing, telemarketing, online marketing and various other multi-channel B2B marketing campaigns for healthcare databases have proven to be highly successful. It is best to reach out to data delivery experts that guarantee accurate lists and best ROI.
Let us look at the five advantages of purchasing healthcare industry email lists
Reach the Right Audience: While building organic lists, the major downside is the enormous amount of time taken to build specific email list than a purchased targeted email list that is customized according to your requirements. Be it physicians, nurses, specialists or other healthcare professionals under the healthcare industry, there are businesses that aim to sell their products and services to these professionals. Thus, improve your response rates by targeting specific decision makers by buying mailing lists.
Market Penetration: Finding precise data to connect with healthcare experts is a cumbersome task, especially in the healthcare industry. You may spend a lot of time in gathering relevant data and still not have legitimate up-to-date data. Mailing lists are easy to access and can be operated seamlessly across different geographies. Find more physicians & surgeons, dentists and nurses in healthcare databases across the globe. Include 100% verified accurate, clean, hygienic, easy to access, affordable and easy to use mailing list data for all your healthcare marketing campaigns.
Target Healthcare Events:

Email list providers are quick and efficient, each mailing list catered by them is exactly what businesses require. Healthcare events like tradeshows, seminars, and conferences are the place to gather relevant contact details of your prospects. If opting for purchased medical email list providers, healthcare events help connect to numerous experts and increase knowledge regarding who requires your help and where. 

Be Active on Online Platforms: The healthcare industry is diverse comprising of healthcare centers, hospitals, pharmacies, specialists, medical suppliers, counselors and many more. The increase in social awareness, development of new target markets and a 360 degree presence has compelled marketers to embrace new-edge technologies to survive the competitive boom. Use social media and targeted email campaigns to send the message across to the right audience to generate an online awareness.
Target Special Days: Just like other industries the healthcare industry also has special days that cater to businesses selling their products and services. For instance, international cancer awareness week is one where- suppliers, medical businesses aim to target potential customers. By using curated email lists from acquired databases, filter through contacts to locate the most important and valuable data that include medical and healthcare experts.
Lake B2B's Healthcare database enables you to select the features that best fit your needs—whether its data lists for specialty or specific healthcare departments. Reach out Healthcare Industry business decision makers and senior professionals with our super clean and well-maintained Healthcare Industry business email list.
Our experts can offer solutions best suited for your B2B healthcare marketing campaigns. You can connect with us here.