It Costs More to Acquire Than Retain – Use B2B Customer Marketing
According to Forrester, it costs 5 times more to acquire a new customer than to retain an existing one. We all know this, but with the pressure of acquiring new customers we tend to lose sight on retaining existing customers. Here's where B2B Customer Marketing come into play.
4 Key Areas of B2B Customer Marketing
B2B customer marketing starts post-purchase, where you can provide value and enable sustainable growth of your business. You must consider the end of a buyer's journey as the beginning of a new role for sales and marketing. How you make your customers feel has a longer lasting impression than what you have to tell them or sell to them.
1.    Retention – Is the ability to retain customers which is the key success factor in determining the longevity of your business.
2.    Reactivation – Is the process of regaining customers who have lapsed. You need to try to win them back and get them to buy from you again.
3.    Upselling – Is the opportunity to sell additional services and products that add value to customer relationships. This role is not limited sales teams, marketing teams also need to provide value that help in upselling.
4.    Referral – Is the social proof that enables you to sell to other contacts based on feedback from existing customers. Whenever possible ask for referrals, reviews, case studies and testimonials from existing customers.
Why B2B Customer Marketing is Important?
·         Low cost – It is a known fact that it costs more to acquire new customers than retain existing ones. Therefore, you need to create a customer experience to retain existing customers, rather than trying to acquire new ones.
·         Relevantly market with accurate data – As you already know who your existing customers are, you can target them relevantly. The data on existing customers such as invoices, previous transaction history, and customer interaction over time is more accurate than data that you get of new contacts from B2B events, landing pages, or form pages on your website.
·         It's a job already half done – Existing customers have already shown interest and commitment in your business. Rather than trying to acquire a new customer and sell to them at a higher value, it is easier to market to an existing customer and take them to the next level. For instance, it is easier to upsell a product of higher value to a customer who has already shown interest and commitment in your business, than try to convince a new customer to buy from you.
How to Create a B2B Customer Marketing Plan
1.    Get Buy In Across the Company – To implement any customer retention marketing strategy successfully, it is important to get support from various departments in the company, especially sales and finance. Just so that all efforts are directed towards a set of goals and objectives, keeping acquisition spend aside.
2.    Define Goals and Objectives – You need to identify smart goals to keep your efforts focused. Specific objectives that are measurable, actionable, realistic and time bound need to be defined. This will help you understand whether your goals are being met. For instance, a realistic objective of your customer marketing plan could be to increase the purchase value of retained customers by 5% by the end of Q4 2015.
3.    Segment Based on Your Customers' Post-Purchase Journey – Only once you have defined your objectives, will you be able to prioritize and segment your customers, specific to your line of business. Customer lifecycle is very important here. For instance, your customer marketing strategy will differ based on whether you have a single purchase business or a recurring revenue business type.
Gantt Chart for Post-Purchase Marketing Plan – For Recurring Revenue Businesses
The following chart serves as an example of a six month marketing plan after a customer has purchased your product or service.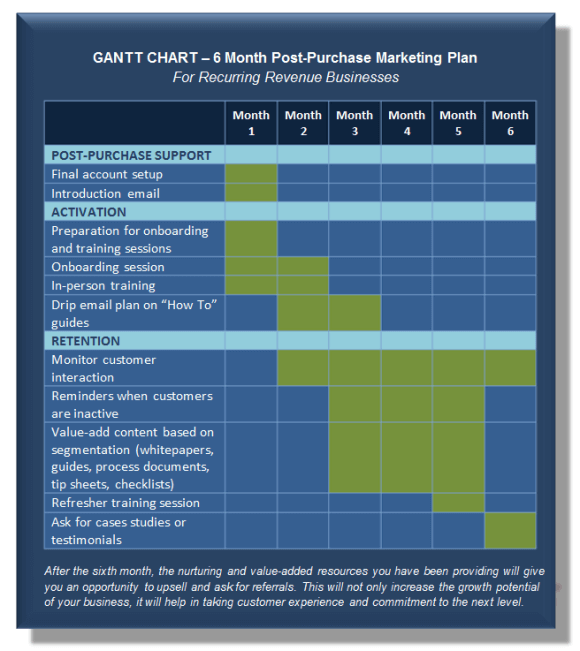 Tips to Consider When Creating a B2B Customer Marketing Plan

·         Keep your messaging simple – you want to make it easier for your customer to understand and get convinced about what you are trying to offer. Create your marketing plan, provide value and build trusts in such a way that makes reactivation, referrals, renewal and retention easier; enabling your sales team negotiate and converse at a higher level with existing customers.
·         Build value with your customer – In the initial stages of your relationship with your customer, you need to build value and trust. Once you get them to purchase your product or service, you need to provide service. At this stage your customer is most interested and it is the best time to build value and trust by engaging them. Providing on-site training sessions, sharing useful information through newsletters, guides, whitepapers, articles and other material is a good way to keep the conversation alive.
·         Create customer delight – In the stage of retention and growth, once you have gained the trust of your customers, you can take a step ahead and delight them. In a competitive market, you need to provide more than what your customers expect. In this way, it will help in building a deeper level of relationship.
·         Keep your database updated – the data you have on your customers is valuable information. Whether it is information collected through regular interaction or from third-party sources, make sure it is accurate and updated. This will immensely help in prioritizing and segmenting your database to target different customer segments relevantly with personalized messaging. It will also help in identifying your high potential customers.
It will also help in identifying your high potential customers. Based on internal data such as customer interaction, history and stage of lifecycle, you can target high potential customers at the right time with the right message. By using third party data, you can augment and clean your existing CRM systems. Details such as company information, industry codes, geographic and demographic data, and social media information can be updated.
Let Your Database Drive ROI with Data Cleansing
Here's how you can benefit from our data cleansing services:
We validate each record in your customer file through an automatic matching process.

During this process, we scan your data with our master database of 30 million business contacts.

In this automated process, the matched records are flagged and updated with fresh data.

In addition, we manually check records and ensure that records 

are valid.
Remove invalid contacts, delete duplicate data and improve marketing campaigns. Know more