How To Be The Best Among The Best In Data-Driven Marketing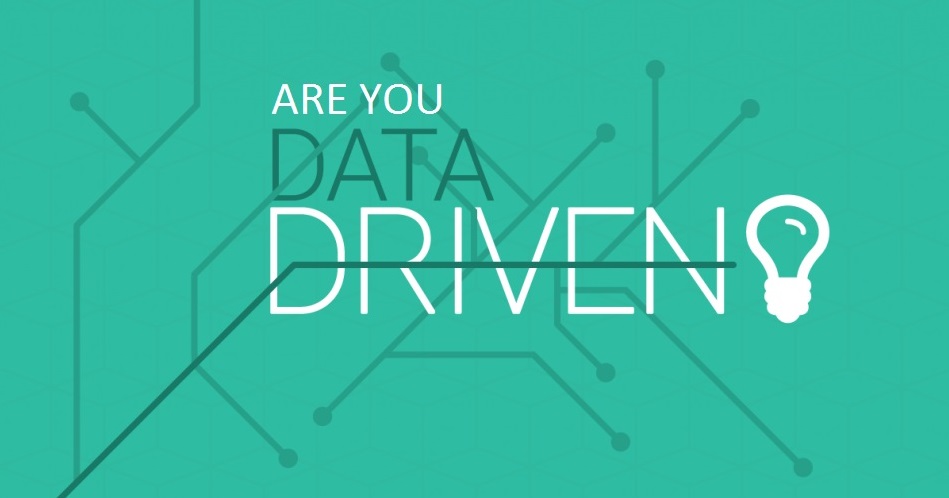 By Guest Blogger- Nathan Franks
Get to know Lake B2Bs secret sauce to data-driven marketing success
When it comes to B2B data-driven marketing, umpteen businesses with skilled teams and accurate data depositories come to my mind, but Lake B2B is one such industry leader that is an influencer across B2B data companies. In particular, looking into the fact that industry expertise, optimum delivery, outperformance and overall business results. Their savviest marketing strategies give out real-time solutions and multi-channel capabilities have become competitive baselines.
Here are three key takeaways that prove their worth as industry leaders:
Industry Expertise
While new skills and knowledge for business success are necessary, these have to be consistently worked upon to be Industry experts. Being ranked number five for Global B2B Data, Lake B2B are data-driving market leaders who have mastered the nuances of skilled data expertise. This is achieved through data-integrated solutions for campaign management, marketing operations and digital marketing helping extend reach to over 36 million top global executives across the world. The journey from core integration of important data marketing peripherals to data automation across industry channels are bound to produce breakthrough results.
Worldwide Collaborations
Data today has attained a dynamic form. It is up to the marketer to fetch that data using the right medium and reaping the best out of it. Clean, updated and verified data is the future of data marketing solutions. Lake B2B offers services that help clients with their complete business growth cycle. This includes sales, marketing, and nurturing and customer service. For a business to work smoothly, all channels of communication have to work alongside to reach out to customers worldwide. While also most importantly, being ranked number three for B2B data in the USA, Lake B2B is a frontrunner to collaborate with prospects, vendors, customers and businesses that focuses on improving the efficiency of marketing campaigns, driving more revenue, and increasing profitability of sales and marketing teams in organizations.
Expansion and Reach
When I snooped around for a satisfactory answer to the question- why is data so important to marketing and how is its future evolution? I was probed by a simple but hard hitting answer 'Because marketing, as much as any other function, is where the data action and data values are' only a holistic 360 degree solution provider that can understand and relate to customer requests provides accurate results.
"Lake B2B, is an exceptional multichannel solution and niche technology data provider for marketers to reach the right audience for their business, be it resellers, industry specific data lists, exclusive data marketing solutions like 360 degree profiling services, email appending services, data analytic services and many more " observed Mike Jennings, long-time Lake B2B customer and B2B market analyzer "with the variety of data offerings, continued growth and expansion and increasing client demand, their future looks bright at the top of the global data industry."
Data-Driven Marketing Backed by Facts
Leaders put more strategic emphasis on data that helps them achieve key goals. In a recent research on B2B data, wherein data samples were verified extensively, the study was structured to find out if the data was available for rent or purchase from data suppliers today—the company names, addresses and URLs— were correct. When vendors for B2B data-driven marketing solutions were evaluated in these respective categories in the USA, Lake B2B was top-ranked at number three for its B2B data offering and is on fifth position in global B2B data market presence.
Below is a chart for the ease of marketers, that the prospecting data they get from Lake B2B is accurate and reliable when it comes to company names, postal addresses and URLs.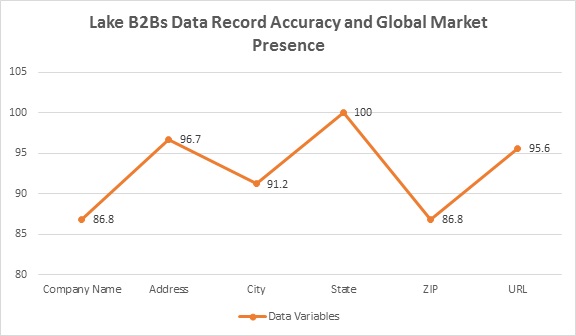 How to Get Results?
Follow three next steps to move toward data-driven marketing, Lake B2Bs way:
Pursue smart growth: Connect, Network and reach out to the best in the industry. Display data strengths to fetch customers and educate them of your products and benefits. This would create awareness and eventually convert into profitable sales.
Build capable in-house teams: Experts provide the best solutions for challenging tasks. Lake B2B assembles an impressive set of capabilities, placing customer requirements at center. No matter how a business wants to get started with data marketing, Lake B2B has an option for them. Their solutions offer one of the most comprehensive set of data records, datacards, and deploy niche data as per industry-specific requirements. With customers deriving insights from data sets with scores of thousands of features, Lake B2Bs has the power to take on data challenges and emerge with critical insights.
Revisit data acquisition efforts: to emphasize industry-specific media and customer-focused sources that deliver business value. With over 42 million data sets, Lake B2B has a high frequency match rate in compliance with customer demands and technology evolution.
Lake B2B is leading the industry in delivering this efficient data capability. Businesses can concentrate their energy on running efficiently to improve profits rather than engineering compatibility between their performance and lack of data.
ABOUT THE AUTHOR
Nathan Franks is a renowned industry influencer and top B2B data bloggers across multiple channels. He provides impactful insights on trends in B2B data space and helps clients understand how B2B data and its dynamic solutions can support their efforts. His focus is to translate complex data challenges into terms that business users can understand and work with organizations to implement solutions effectively.
His work has spanned many industries for companies ranging from Fortune 100 companies to small non-profits. Nathan is a key advisor with Lake B2B where he guides complex strategies and responsibilities while directing efforts in multiple departments as part of meeting company goals.