Is it Hot or Not? Use a Qualified Lead List with Lead Scoring
After an event, the first step is in creating a lead list. However, it is better to have no list at all than creating an unqualified lead list. Before diving into targeting the list you have built, take a closer look at your contacts.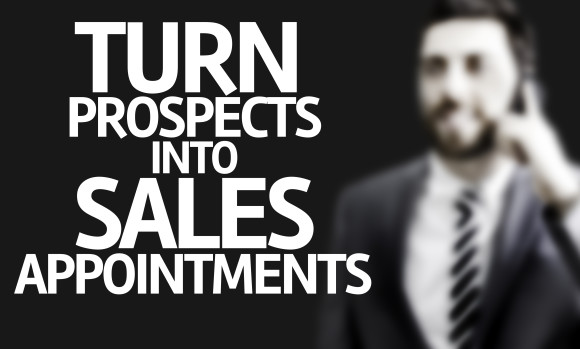 Are the contacts in your list actual leads or just inquiries?
Have you defined objectives and goals for your event marketing initiative?
Do you know the definition of a qualified lead according to your objectives?
Answers to these basic questions will set you in a good direction in building a high quality list of qualified leads, which you can then focus on with relevant marketing messages.
How to Create a Qualified Lead List Through Events
Capture Lead Information with Scanners
Typically in events, a scanner is used to record each attendee's badge. The data collected from these scanners are then sort attendees into categories and qualify leads. However, today many attendees limit the amount of information they wish to share on their badges, this limits the extent of lead qualification.
Connect in the Socialsphere
Social media is one of the best channels to create a qualified lead list and connect with attendees prior, during and after the event. Get to know your audience and converse them to create a connection. Offer to connect and follow them through various social media channels. Even after the event, keep the conversation alive and share valuable information that is relevant. Social media channels provide analytical tools, by using them you can identify potential prospects who are highly engaged and actively involved.
Hone in on the Hashtag
"The power to be found"…The hashtag now has become an inevitable necessity for any event. Create a hashtag specifically for your event and encourage attendees to use it on their social media posts. In this way, once the event is over you can build a list of people who used the hashtag and conversations that revolved around it. Remember to thank those people who were kind enough to use and share your hashtag.
Engage through Email Marketing
While social media may have taken over, email marketing still rules. For events, connect and engage with your audience by sending emails in a planned manner. Before the event, send an email to pique interest and urge registrations. During the event, send an email to provide more information to existing conversations. After the event, personalize and acknowledge prospects who have been active, to continue the dialogue. Email marketing is a great way to drive unqualified leads to become qualified prospects.
Get Feedback from Surveys
It is always good to get feedback by sending a survey after the event or by distributing a survey that attendees can fill at the event. Give an option for attendees to give their contact information. Besides valuable information on how you can improve, you can also build a list of highly qualified contacts of those who have voluntarily provided their information.
How to Qualify Leads
After an event, building a list of leads is only the beginning. It is important to qualify leads to create a high quality list.
Pre-define objectives and goals – List qualification begins with pre-defining objectives and goals in order to evaluate lead value.  Set goals for sales people who are directly in touch with prospects at the event, to make them accountable for capturing and qualifying leads.
Differentiate between leads and inquiries – More often than not, many companies build a huge list of attendees without taking into consideration whether these contacts are potential prospects. There is a big difference an inquiry and an actual lead, make sure you make that distinction and segment your list.
Score leads – Once you have segmented you list with potential prospects you can further score each lead to identify the most potential segment you need to focus all your efforts on.
Lead Scorecard – How to Know Which Lead Is Hot, Warm or Cold
One of the ways to qualify leads is to use a scorecard as recommended by Event Technologies. The scorecard includes criteria with weightage allocated and qualifiers that have values assigned. Let's take the following lead scorecard as an example…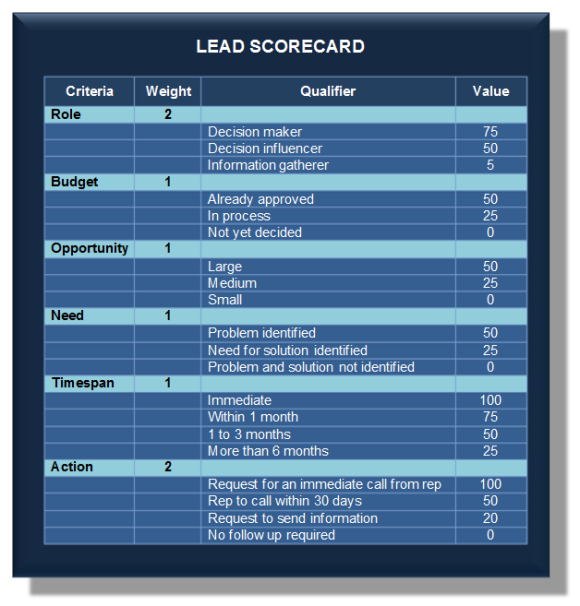 Here's how the lead scorecard is created…
Different criteria such as role, budget, opportunity, need, time-span and action are considered.
Weightage is allocated for each criteria based on how important they are in qualifying leads.
Qualifiers are identified to help understand and score criteria.
Values are assigned for each qualifier based on how critical each aspect is with reference to the objectives of the event.
Here's the formula to find out the score for each lead…
Lead Score = Value of Answer Selected X Weight
For all criteria, calculate score based on answers selected. Add up scores for all criteria to get the total lead score. A rating scale is used to categorize lead as hot, warm or cold. In this instance, the rating scale would be:
0 to 125 score = Cold Lead
126 to 299 score = Warm Lead
Above 300 = Hot Lead
One of the main benefits of hosting and attending events is generating a lead list. However, without a plan with predefined objectives and goals to qualify leads, all you will have is a list of people who may or may not be interested in what you have to offer. Build a list, qualify leads and target them relevantly to get the most out of lead generation through event marketing.
Obtain a High Quality Lead List for Your Next Event 
Align Your Marketing Strategies with Relevant Data