When data dries up should marketers turn to purchased contacts? Weighing pros and cons is essential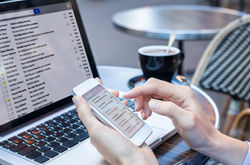 Urging people to join your email contact list is not easy as it sounds. There are many ways to do it like filing forms, registering at seminars, collecting IDs at promotional events. Telemarketing, and getting people to click and come on landing pages of websites is also possible. In B2B industries, the marketers bear the increased burden of finding out the right profiles to deal with and segment them to elicit response from the decision makers. Often customer data dries up over a period of time as people change jobs or move on in the company. Do email lists for purchase seem to represent a sensible alternative?
There are advantages and disadvantages of buying lists. Weighing the pros and cons will encourage you to fathom what will be suitable. 
Pros

Cons

With many digital marketers turning to email lists for purchase they need to regard the bigger picture. Companies allocate good budgets to online campaigns, and emailing is on the top for obtaining responses. The manufacturing sector has additional challenges to face. Some mistakes should be rectified when it comes to contact the right influencers and decision makers.
In today's business environment, it is quite suitable to reach B2B people on social media. However, do not presume that all heads of departments will respond on this platform.
Depending on the sector you represent, carry out a research before shooting out any message to a potential prospect. The person is more likely to respond and share email address via the LinkedIn platform. Many prospects are contacted via this business platform. Improve/modify the content to capture their interests. Once the email addresses are procured use marketing tools to get closer to them.
Email list brokers: Qualify them
There are many suppliers in the market who claim to offer email lists for purchase. Once more, you need to weigh the pros and cons of approaching them. With experience figure out what has gone wrong earlier and rectify the mistakes. This time round while opting for such vendors, qualify them as as the prospects are tapped.
Where have they managed to acquire the data from? Are the addresses of people who have opted to divulge the information or has it been purchased from elsewhere like exhibitions, trade shows, etc?
All the information comes with an expiry date. If the data was collected more than a year ago, will it still be valid for your content strategy? How many will be interested in your services or products?
Are these people already implementing some solution or willing to attempt new offerings?
If the data comes from a promotional event, all emails may be inaccurate. Such a list will have fewer genuine addresses.
Vendors frequently sell the same list to numerous digital marketers. This does not help to sway the genuine people. The competition is top level and other marketers have already made contact with them.
You have to be careful when purchasing the email lists.
Is there a safe list to buy?
Some safe avenues do exist offer the right addresses and the vendors will inform you about it. When industry conferences are organized only the key influencers and decision makers attend them. They are likely to furnish the right email IDs. Even associations of big industries maintain the latest database of the targeted people. These could be your best bet when you roll out the alternate strategies.
All attendees in such significant events are likely to leave calling cards or fill forms that will keep them abreast of latest industry news. They may even offer more information about their needs, and this could be a bonus for you. Marketers could easily contact these people with better results. There would be valid responses from these people and lesser chances of being spammed. If you belong to the same industry, they will lend a willing ear to your communications.
Bottom line of purchasing customer lists
Once you have the right email addresses enter the names and designations for professional exchange of conversations. Then it is up to you to personalize the emails and extend a cordial greeting to connect. Not all attendees may be interested in your offerings, hence the bottom line below will provide benefits.
Segregate the targeted audiences once you have purchased the list. It could be divided via ranking, size of the company or type of business.
Find out with Kiss metrics if the recipient will be able to appreciate your message and offerings. Share website link and blogs related to what they are interested in.
Keep a loyal following with these people. Invite them to your special events. Switch from virtual to physical contacts effortlessly.
Data dries up constantly. But there are ways to fill the pool and get on with business if you weight the pros and cons.